Pleated skirts … what's the scoop?
I was pleased to see that pleated skirts have popped up on the trend horizon for this season. I've had a couple of cute Joseph pleated skirts languishing in the back of my closet for a number of years, in that funny limbo land somewhere between "I-never-wear-them-so-I-should-chuck-them" and "but-OMG-they're-Joseph-I'm-never-chucking-them-away". Tricky right? So at last their time has come (and thank the lord have not been riddled with moths during their incarceration).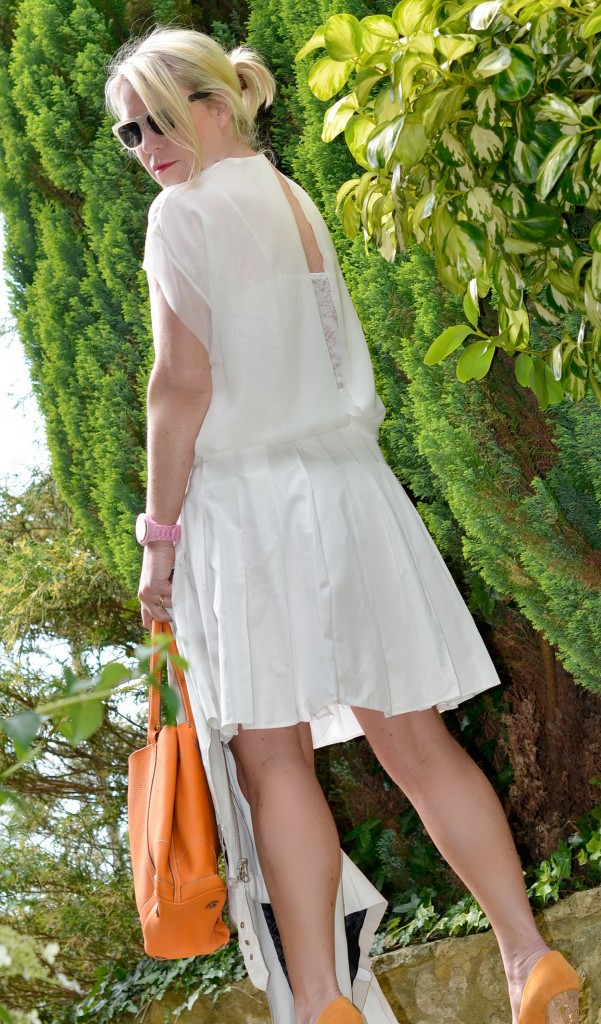 So what's to love about pleated skirts? Well, if you happen upon just the right hem length and just the right width of pleat you are on to a summer winner. I'm not going to get all Einstein on you, but it's all about the kick of the pleat in relation to where the hem line falls which can make or break it. The most flattering hemlines lie on the thinner part of the leg, either slightly above or slightly below the knee. As long as you have that little duo sorted we are talking cute silhouettes and happy cost per wear numbers.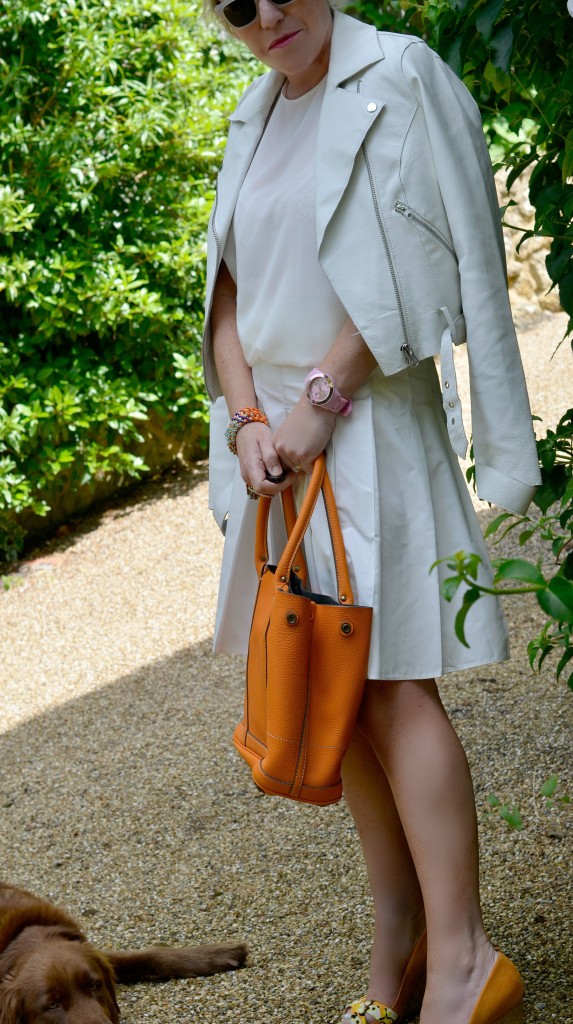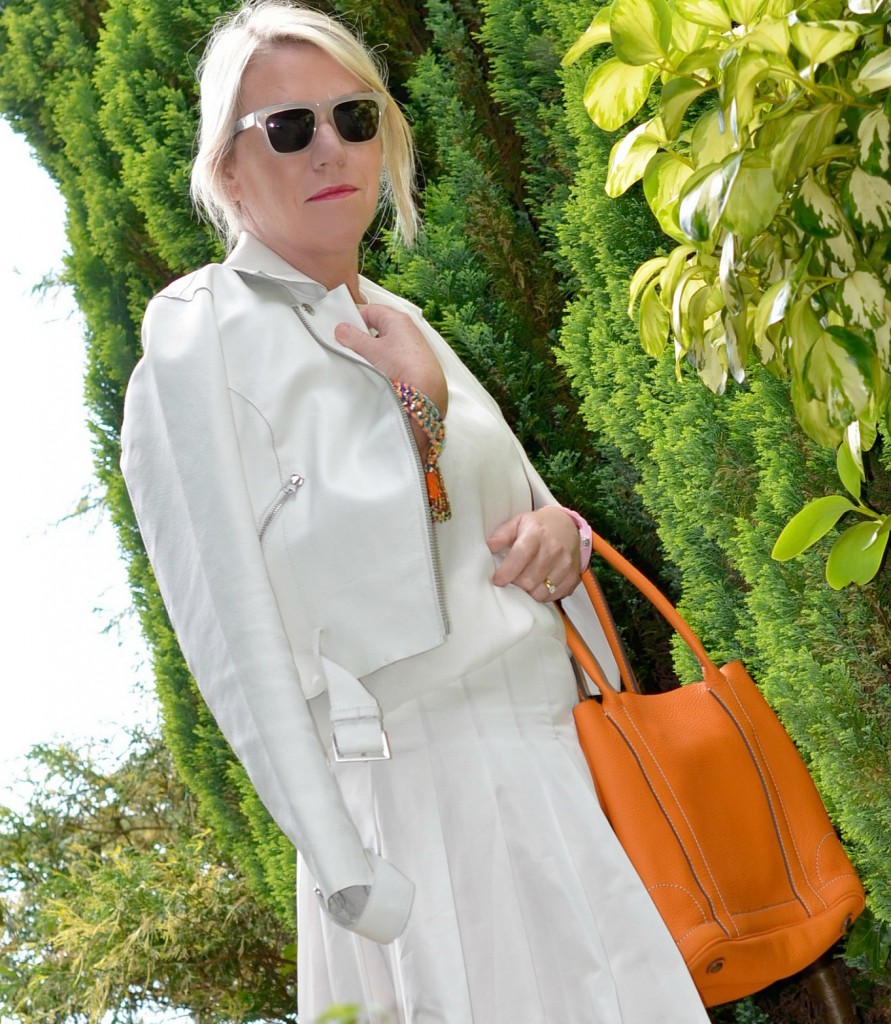 I shamefully nicked this crop Warehouse leather jacket from my daughter for this outfit post – probably a tad too small for me to really wear but hey … a little shoulder robing never hurt anyone! The sheer top is Cos with underpinnings from Calypso St Barth.
The bag is an old J.Crew number but you can find similar orange loveliness here on sale at The Outnet. The bracelet is from Calypso St Barth. Shoes are from the lovely Rupert Sanderson (same shoe different colour here and here) which I snagged on my recent press gig to Bicester Village for the British Designers Collective pop-up shop event with Ellie Goulding. The dog is Fozzie… formerly a citizen of the New York pound, currently happily ensconced in the Surrey hills… until his new puppy mate arrives next weekend…gulp!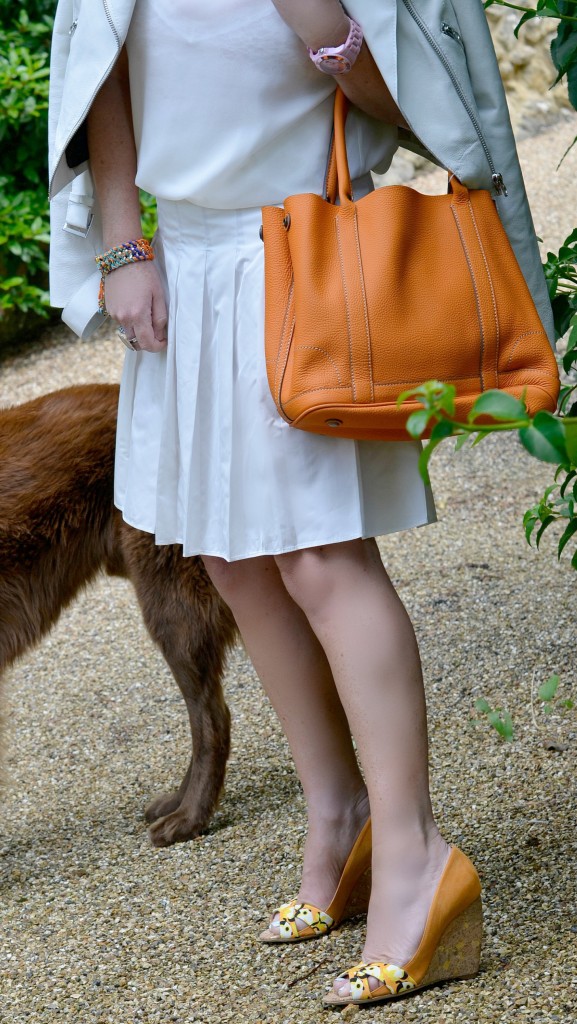 Pleated skirts … 3 ways to wear them.
So let's not be shy about our pleated skirts, let's get them out there and make the most of them this summer.
Weekend: Mango pleated skirt, A.P.C. cropped striped tee, J.Crew denim jacket, J.Crew striped market tote, Supergas.
Office: Mango pleated skirt, Fendi sheer blouse, Warehouse leather jacket, Michael Michael Kors bag, Rupert Sanderson wedges,
Cocktails: Mango pleated skirt, J.W. Anderson silk and cashmere blend top, Marc by Marc Jacobs satin jacket, Sophia Webster for J.Crew heels.
(Visited 135 times, 1 visits today)