5 Ways to Improve a Neglected Garden Seating Area.
AD [Affiliate Links Used]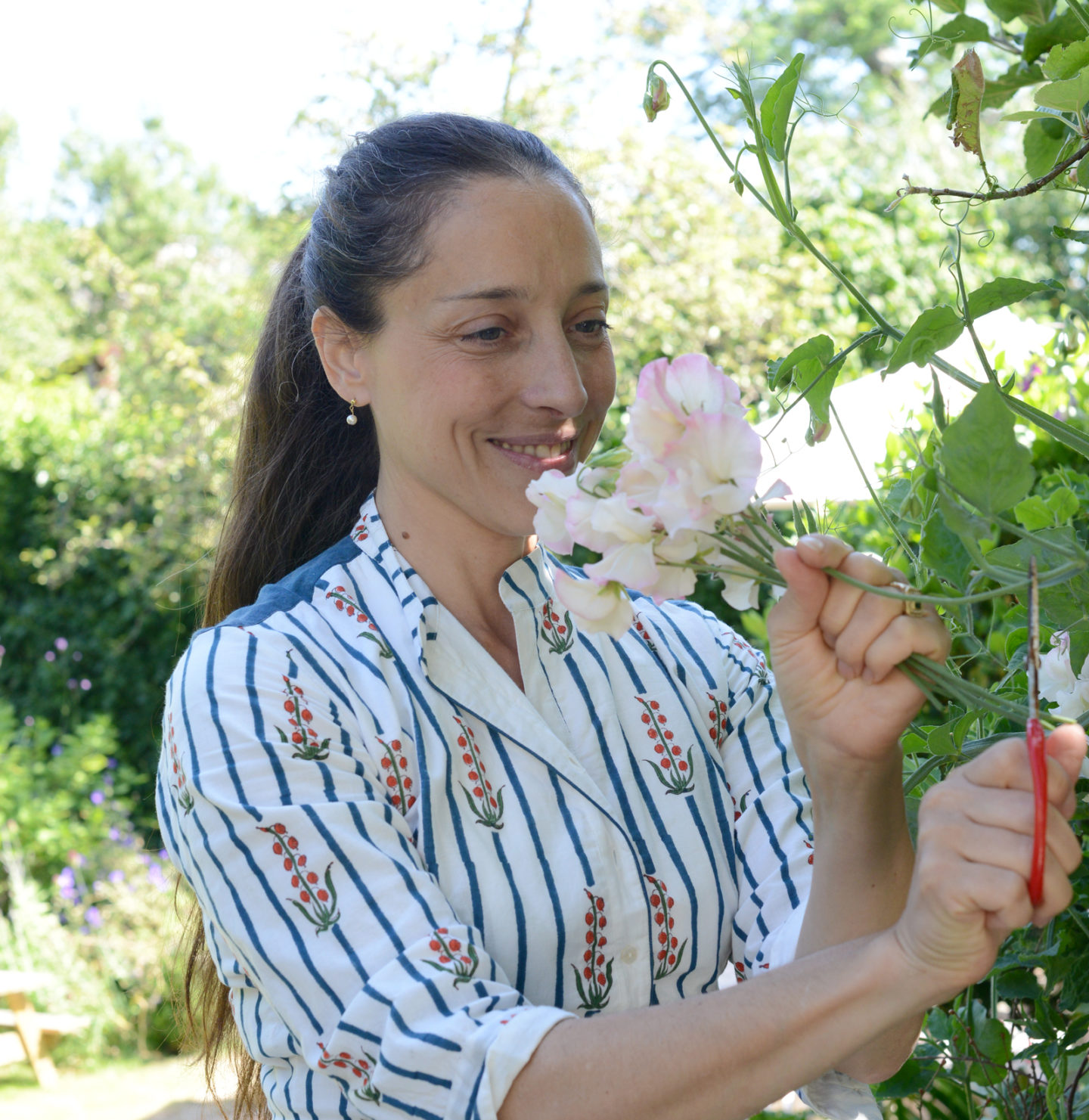 It's Easter weekend, and if we are lucky with the weather, that means most of us will be lured outdoors to shake off those winter cobwebs and rediscover our gardens. It's a great weekend to start planning your gardening updates and revamps and look at areas which may need a little love after a harsh winter to get them looking glossy for the summer ahead. I for one am going to be out there as our garden needs a whole heap of extra love before our Open Garden in May. Luckily we have the fantastic Laetitia Maklouf on hand to give us some advice on 5 ways to improve a neglected garden seating area this month.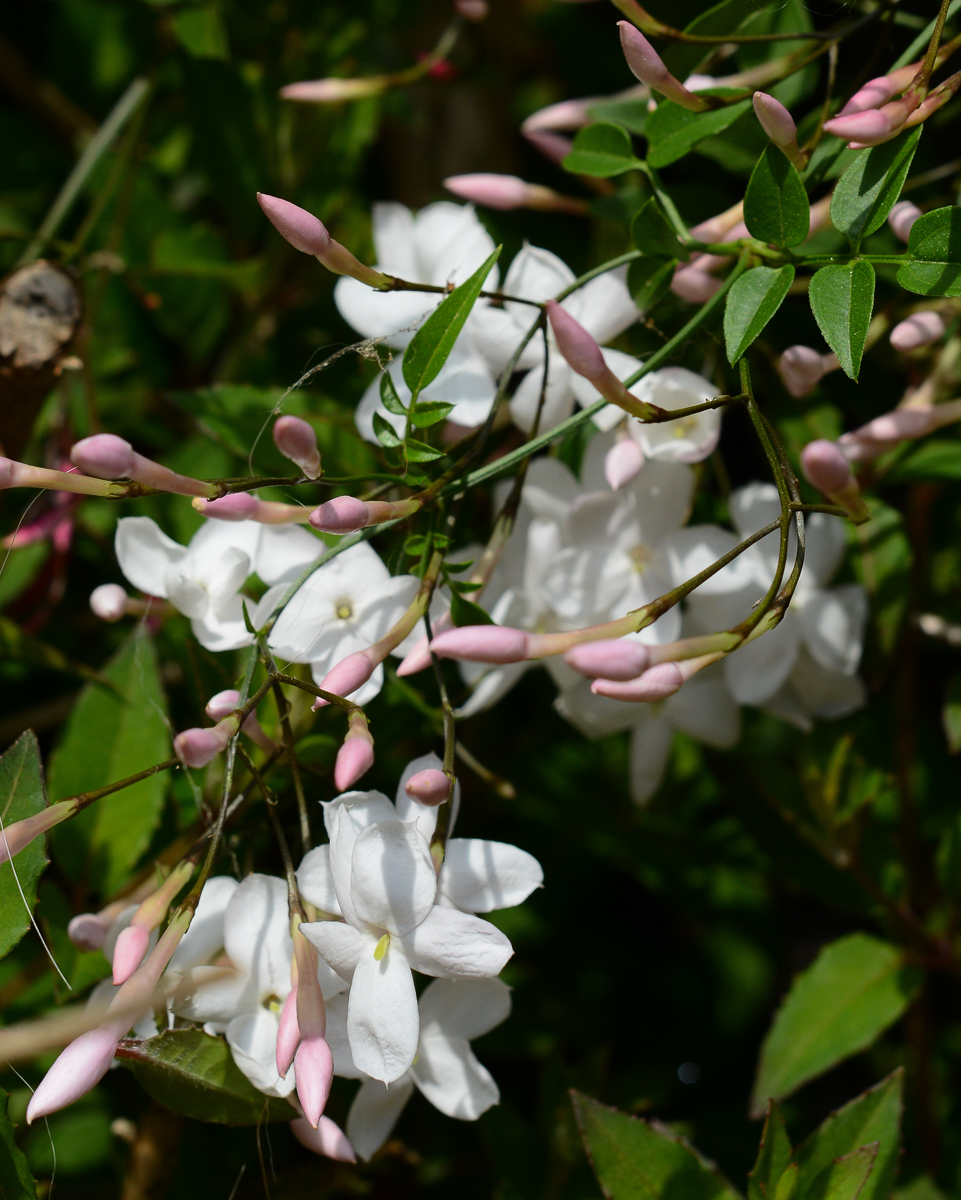 First up – plant vertically: Use your walls, fence or trellis to cosy things up by planting fast-growing climbers that will cover and cushion your space. This is a great time of year to get things in as they'll romp away with the warmer weather as long as you water properly and diligently over the first couple of weeks.
Honeysuckle – sweetly scented and evergreen 'Halliana' is a total love affair for insects who flock to it for nectar.
Clematis – Any mid or late season flowering clematis will be bursting into growth right now. The trick here is to keep tying in whenever you happen to be walking past so that the thing covers your support from top to bottom, rather than just letting it reach for the skies.
Jasmine – an excellent choice for a sheltered spot and THAT SCENT will blow you away when it comes into flower.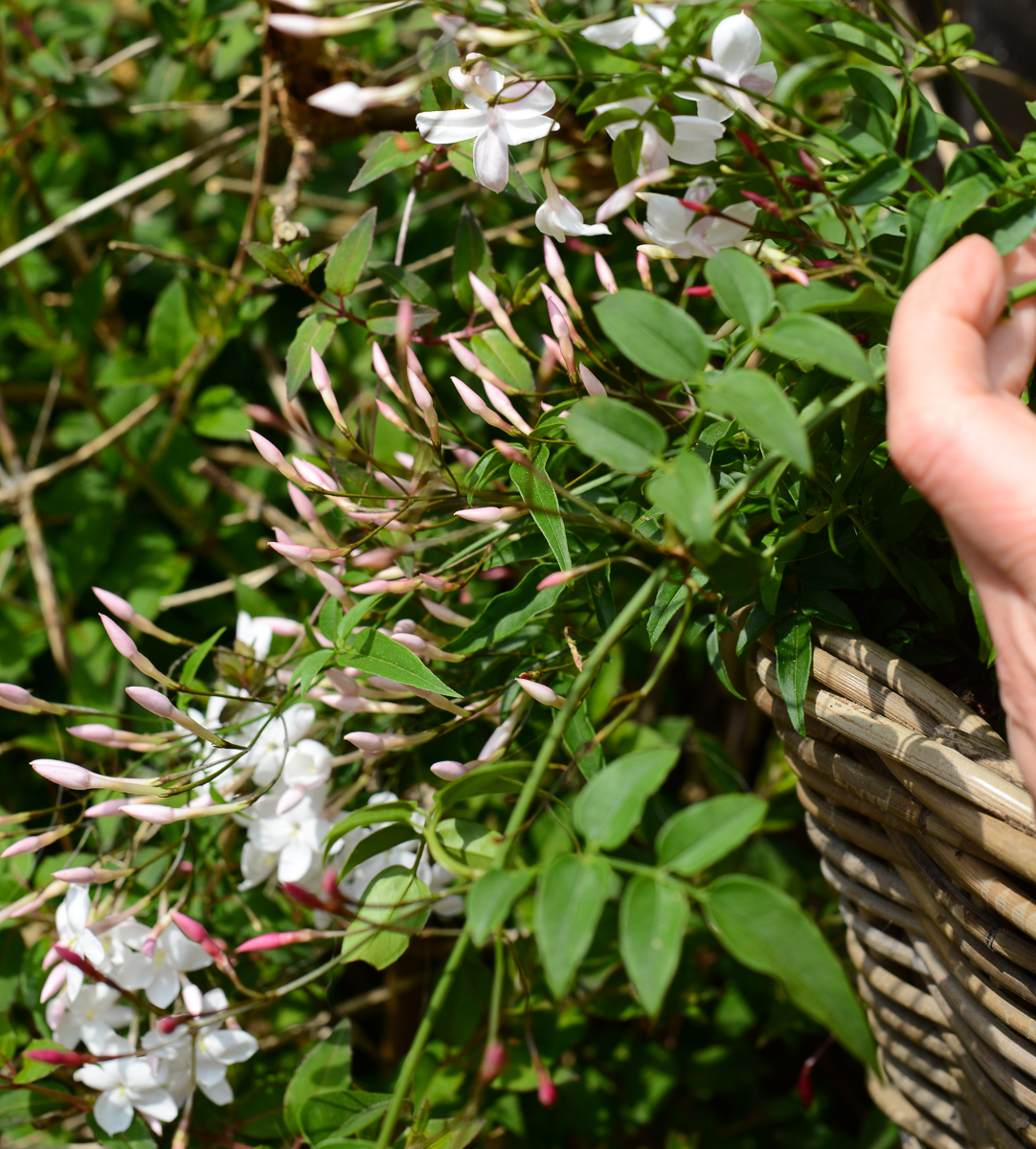 Jasmine from Kingfisher Farm Shop, Abinger
Cobaea scandens – if you can find small plants of this tender climber then snap them up. Otherwise, it's worth starting from seed. Produces masses of bell-shaped flowers giving it the name 'cup and saucer vine'. The beauty of this one is that it is self-clinging, but the drawback is that you have to start it again every year as it's tender.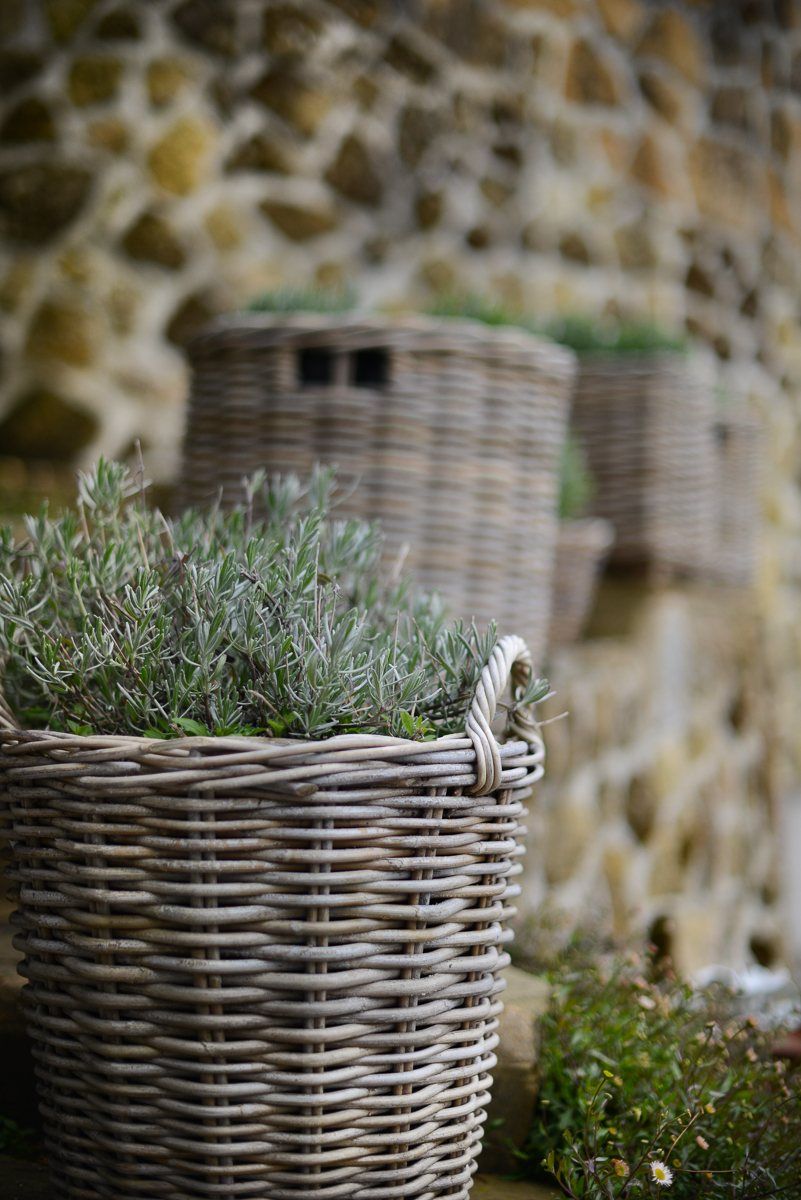 Next, use large containers, even in a small space: This is essential, not only when it comes to maintenance (because large pots hold more water for longer than small ones) but because large containers add a feeling of generosity and grandeur to a space (we all want that don't we?). Pick one, or at the most, two types of plants with which to fill them. My favourite, low-maintenance container plants are:
Ferns – any evergreen fern, repeated in containers will add understated chic to any area.
Muehlenbeckia – I love this delicate- looking plant, it looks so beautiful in urns and pots, spilling over the sides. It needs very little care and will put up with an enormous amount of neglect. For this reason, don't put it in the ground because it might just take over your garden. In a pot though, it's perfect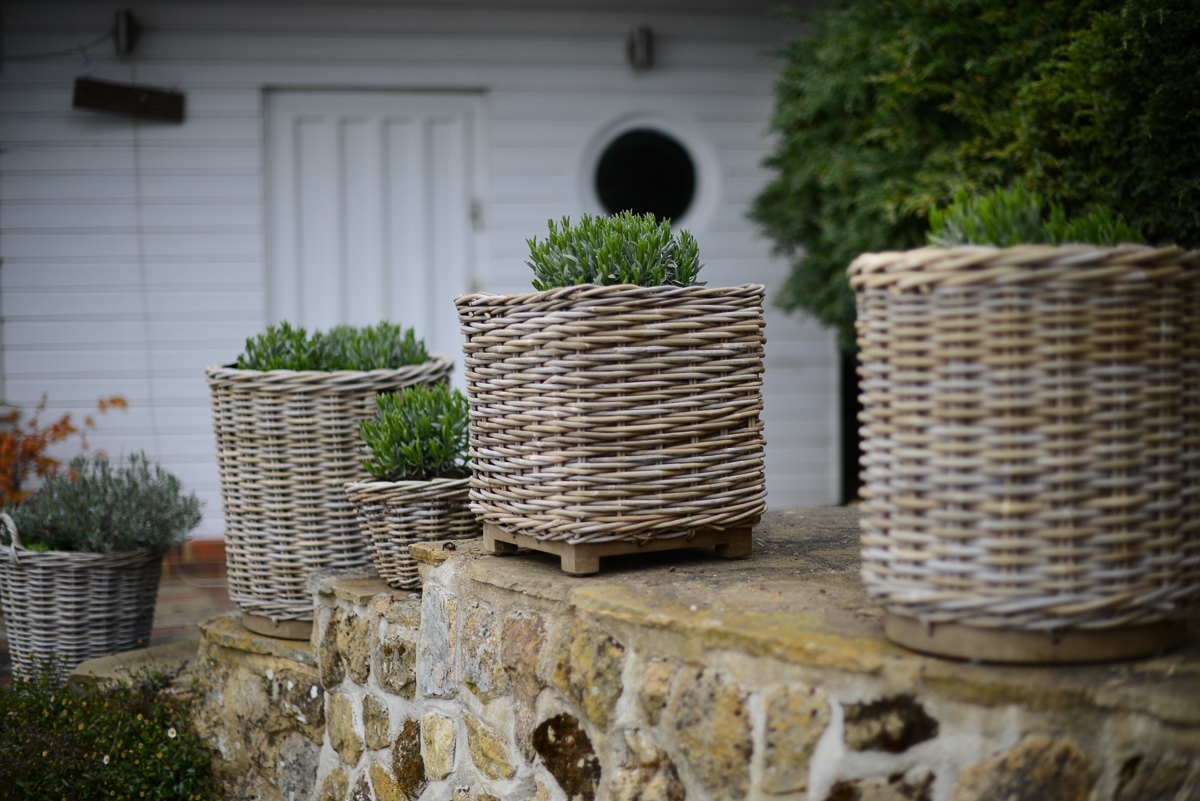 Cox & Cox rattan planters
Herbs – Lavender, rosemary, bay and mint are all herbs that do really well in large containers, with the added benefit that they'll scent your surroundings and provide herbs for your kitchen. Win-win. NB lavender needs sufficient full sun to do well – if your space doesn't have that, then go for one of the others.
Bedding – Go to the garden centre and pick your favourites for planting out over the summer. Again, stick to one or two species for a cohesive look. Violas, Argyranthemum, and scented pelargonium are just three of my favourites. Keep them watered and fed, and you'll be laughing.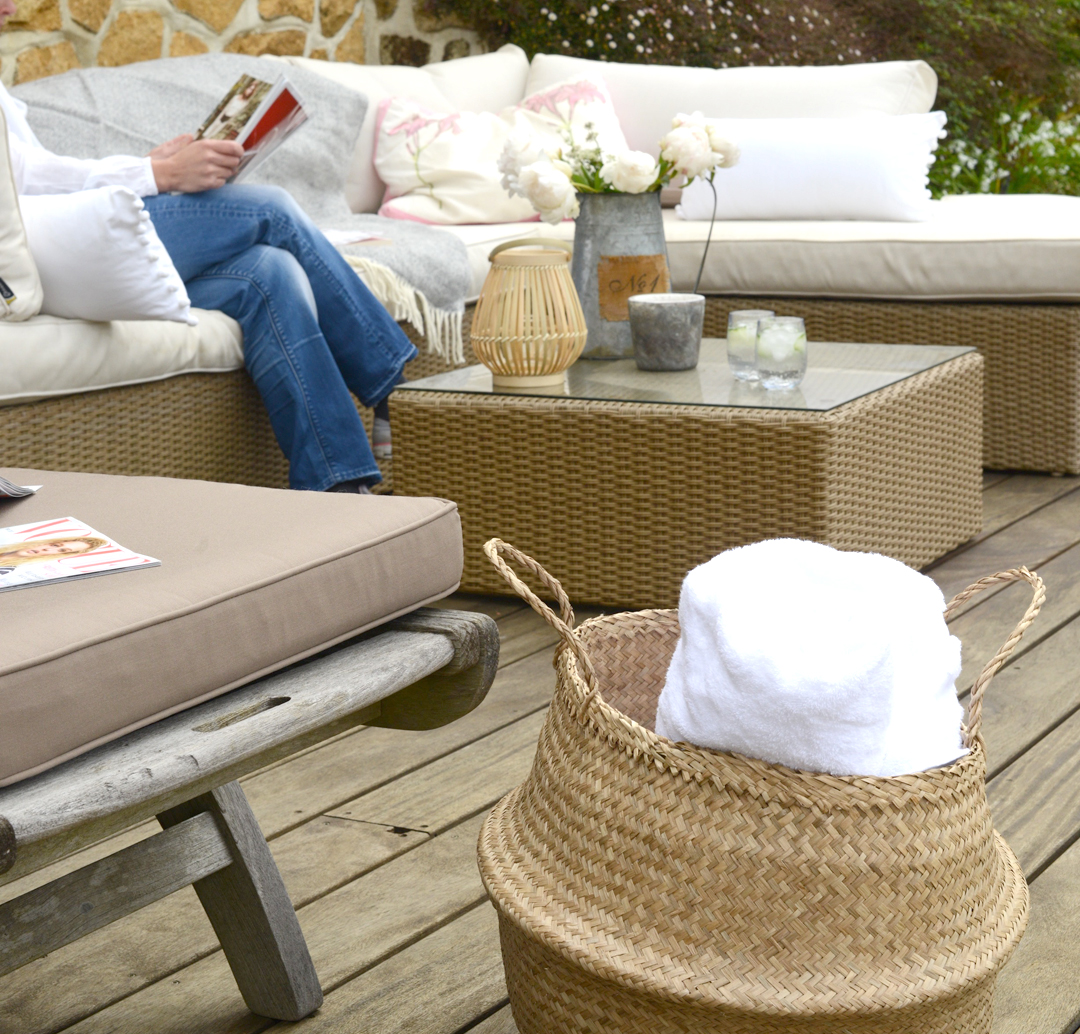 Then it's time to think about an update to your furniture and have comfy cushions ALWAYS! Don't be afraid of using strong colours in the garden – it's like fashion; if you wear it with confidence, then you'll look great. Choose colours you really love and accessorise with lots of textiles in different textures. One of the greatest battles with seating areas is setting up each day. This is crucial if you're ever going to enjoy your garden, so get in the habit of keeping your outdoor cushions and throws in a handy, easy-to-access area and putting them out EVERY DAY (unless it's pouring with rain). You might find yourself with an unexpected hour to go out and enjoy the garden, and if there's nowhere nice to sit, then you just won't bother. There are lots of amazing waterproof, mould-proof upholstery and textiles on the market to make life easier for you. Consider an outdoor rug too – you'd be surprised how much a rug can add to a seating area, making it ten times more inviting.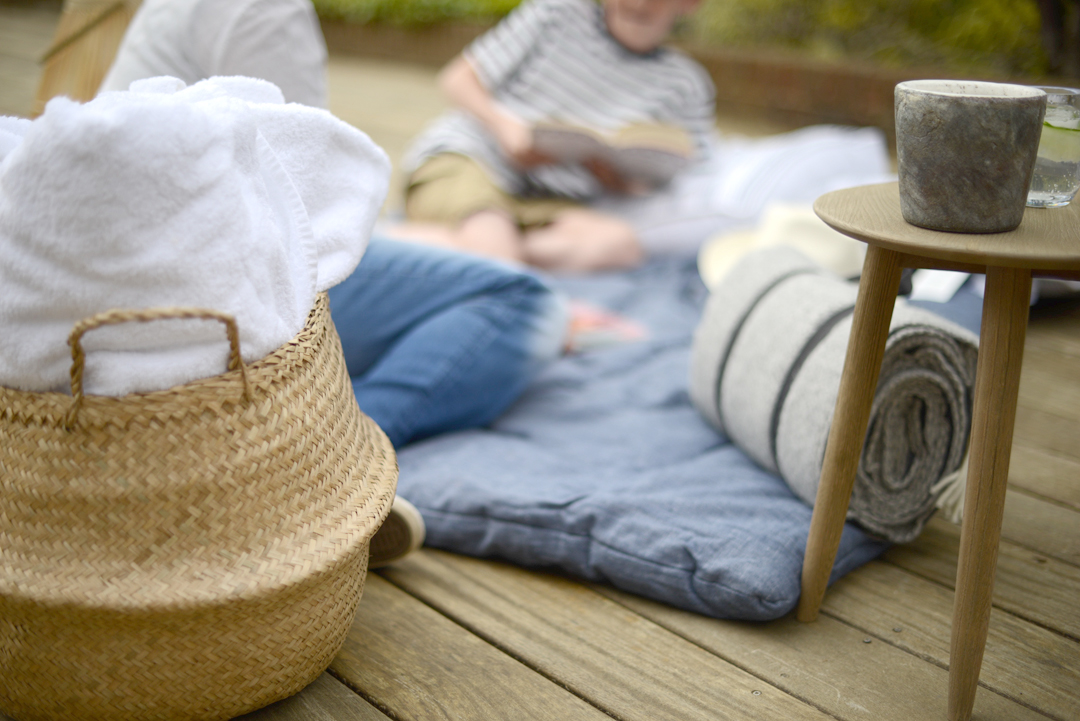 The White Company outdoor living selection
Parasols or shades are a must, and they also add much-needed height and structure – almost like a tree that you can move around at will.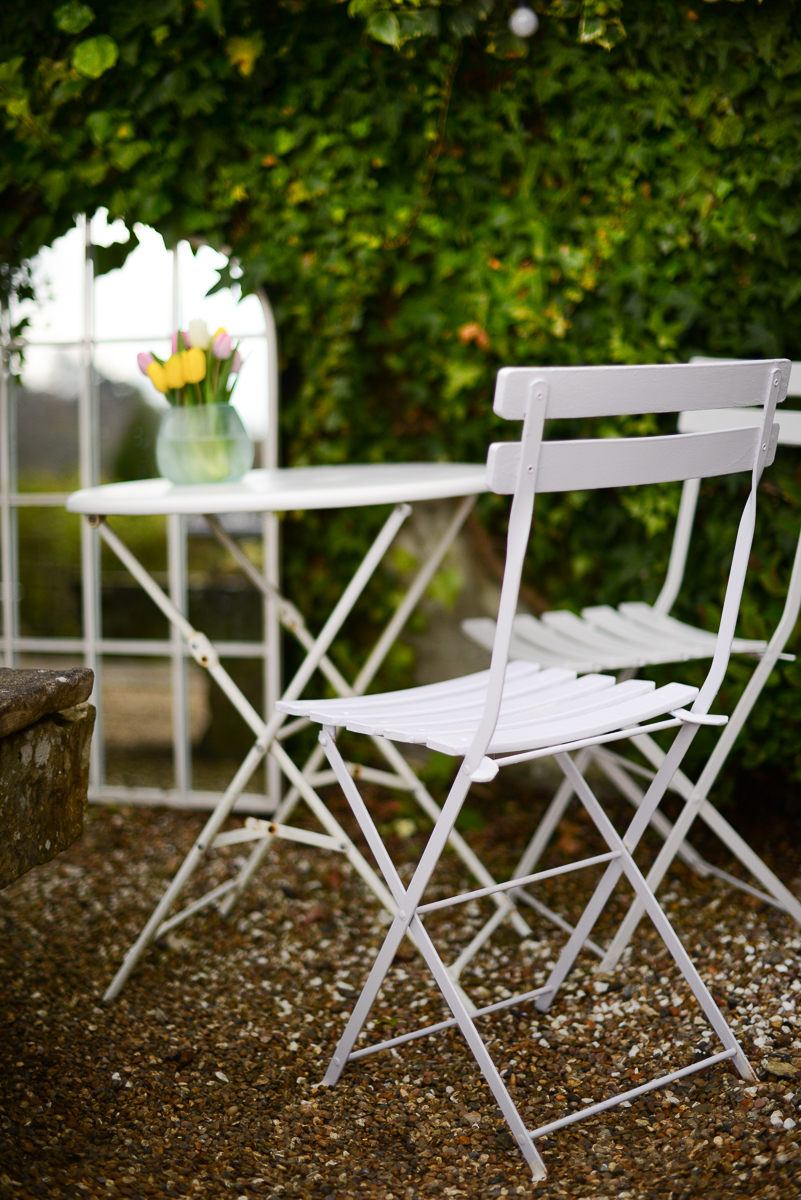 Outdoor arched mirror, vintage bistro seats bought from Kempton Antiques Market painted with Farrow & Ball paint.
Consider a mirror. Mirrors make small nooks so much more special and intimate, particularly in a garden. Mosaic mirror is always the ultimate because it glitters so beautifully, but it's expensive, so weathered mirror is a great option, providing a subtle hint of age. If you can't stretch to either, then partially obscuring a mirror behind plants will do the trick perfectly well too.
Finally, let's talk tablescapes: In the summer I remove my fire bowl from the garden table and replace it with plants. Here are my favourite plants for an outdoor table, in no particular order. All pots should be shallow and wide so that you can see your beloved over the top of them.
Alpines – tiny low-to-the-ground jewel-like flowers that are tough as old boots.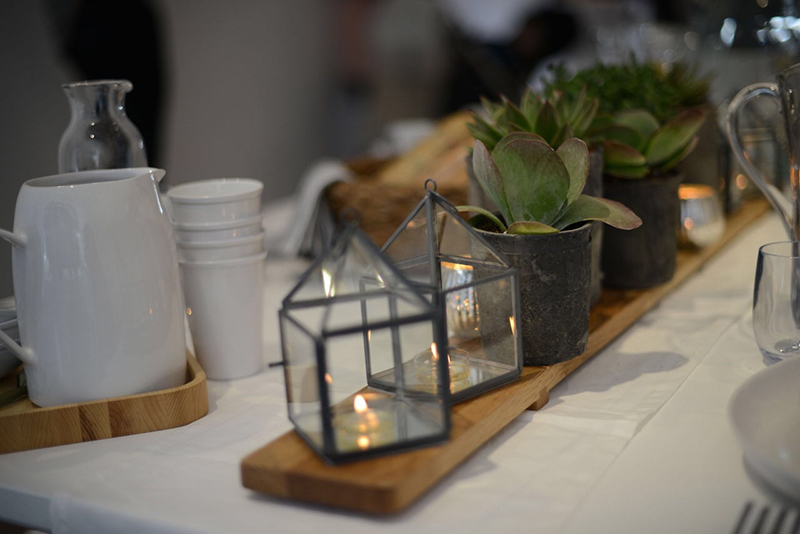 Sempervivums – ditto, but even tougher – you can even plant them in the frog of an old brick, and they'll be happy.
Thyme – creeping, aromatic, heavenly
5 Ways to Improve a Neglected Garden Seating Area… where to shop.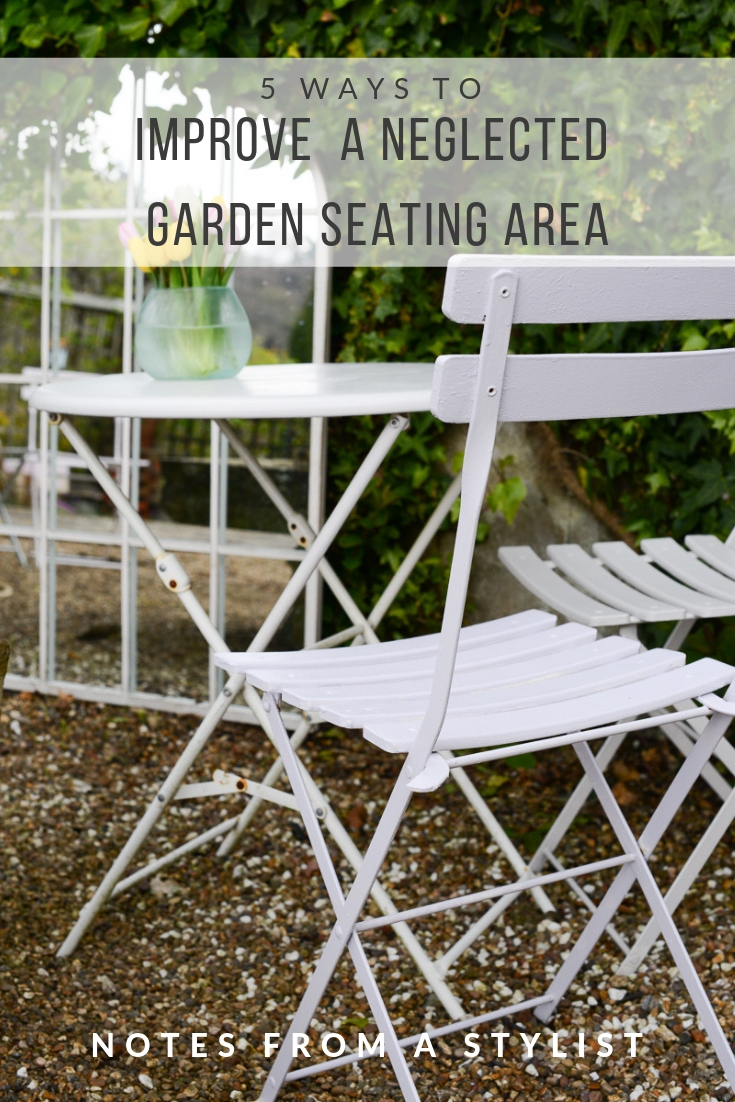 So here's a quick edit of some of the glorious outdoor living pieces in stores right now which may help set you on your way to perking up a neglected corner this weekend. Click the images to shop. #Affiliate Links Used.

With thanks to Laetitia for another fabulous round up of tips. For previous tips take a peek here. To find out more on her brilliant blog head here, or to stalk her on Instagram follow @laetitiamaklouf. She also has a slightly addictive hashtag which is worth a follow for those time-poor keen gardeners #thefiveminutegarden.
(Visited 2,150 times, 1 visits today)