How To Style The Pastel Suit Trend.
AD [Affiliate Links Used]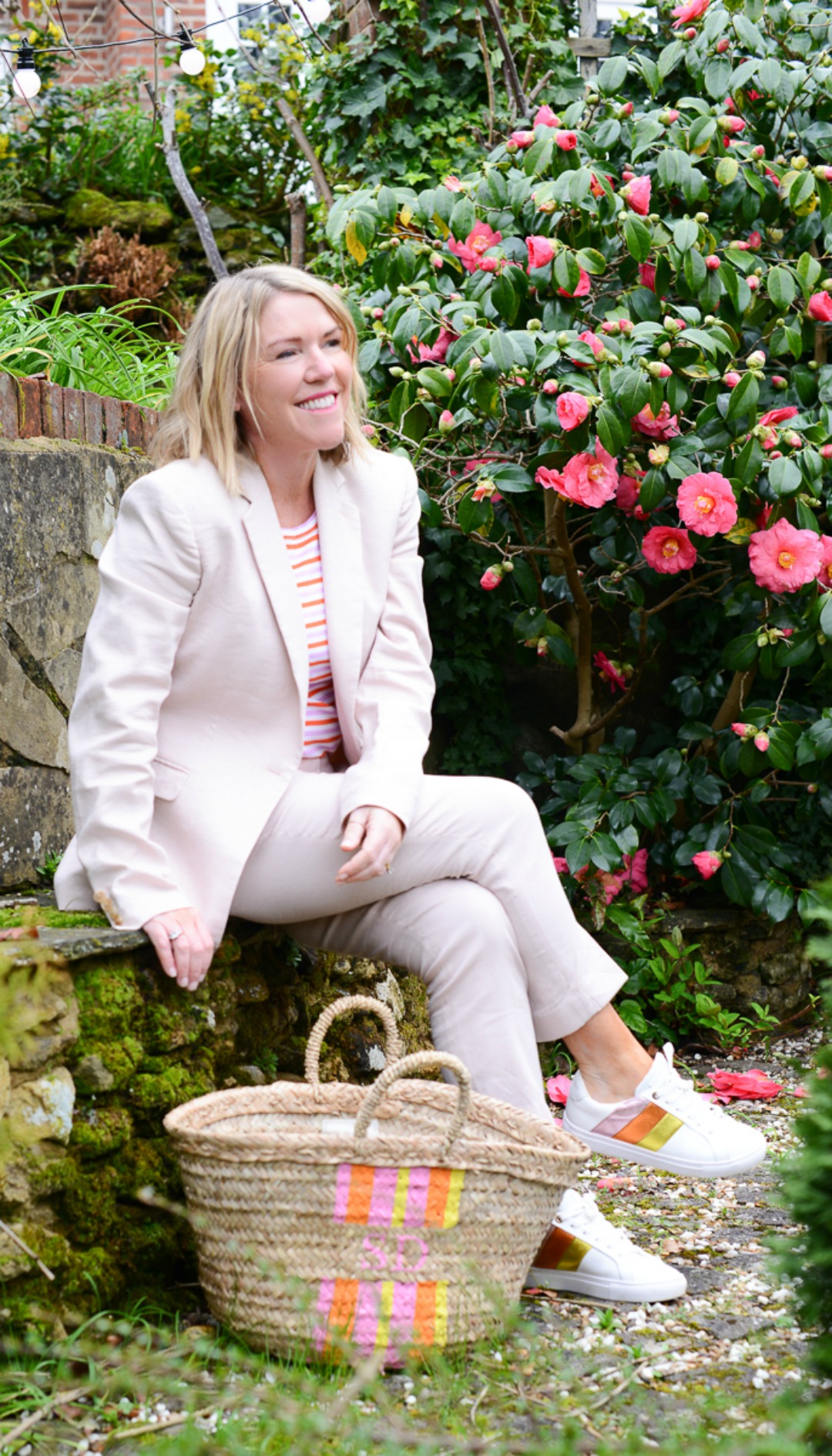 Whenever Spring rolls around, and closet switch-ups are due, with Winter garb being retired and all the new season lighter brighter layers being unleashed, it's the perfect time to consider a few new trends. This Spring is no different especially with the onslaught of all things pastel heading our way. So when I happened upon my pastel suit the other day hiding in the back of my closet, I figured it was serendipitous timing to dust it down and create a little post on the power of the pastel suit for Spring.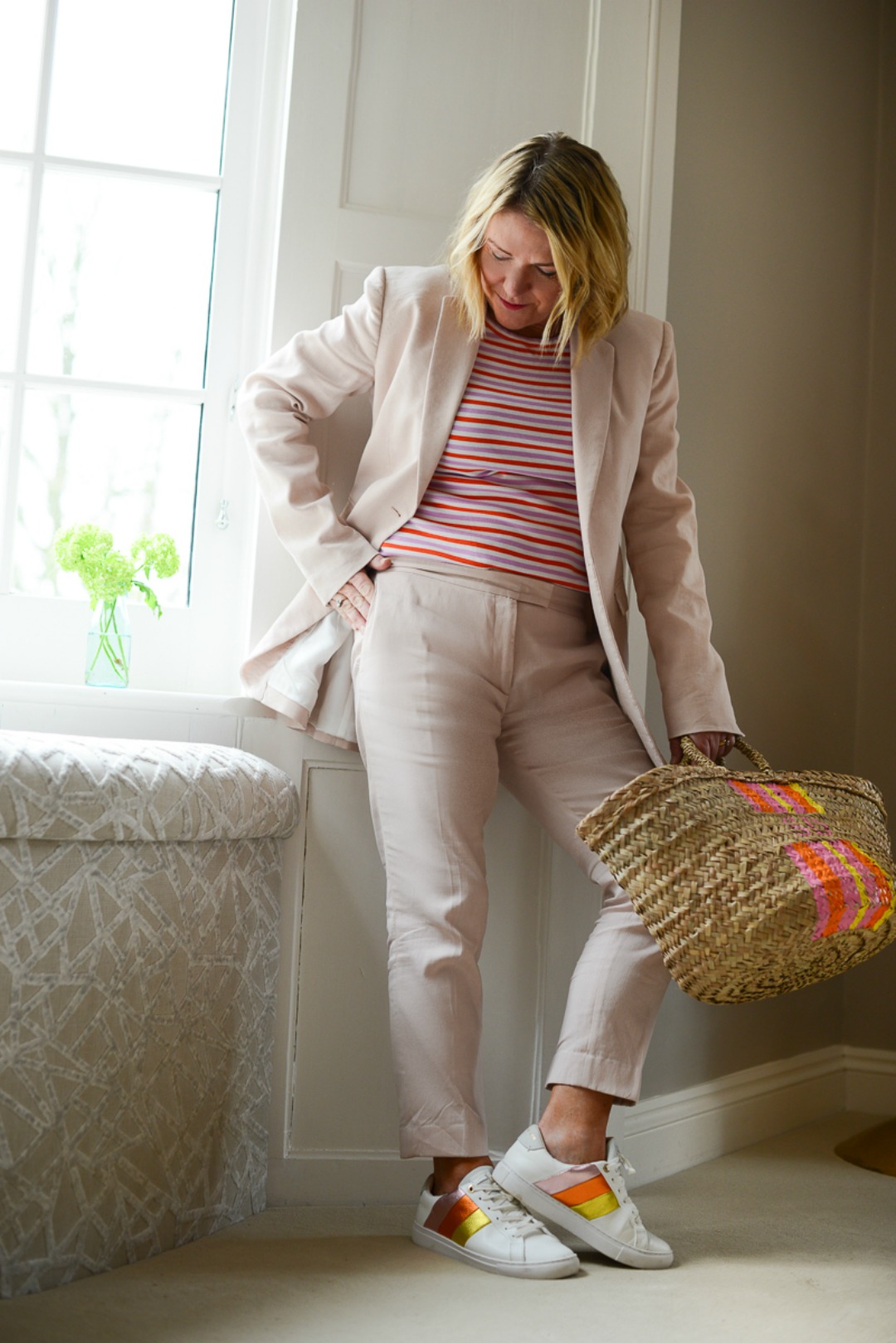 You may well remember this suit from Joseph in this post here. I loved it when I bought it, and in this re-wear/reduce/recycle era, it's definitely going to get some wear this season. Not least because it cost a packet way back then and the old cost-per-wear equation needs to be levelled out pronto before him indoors starts moaning about my clothes hoarding habits.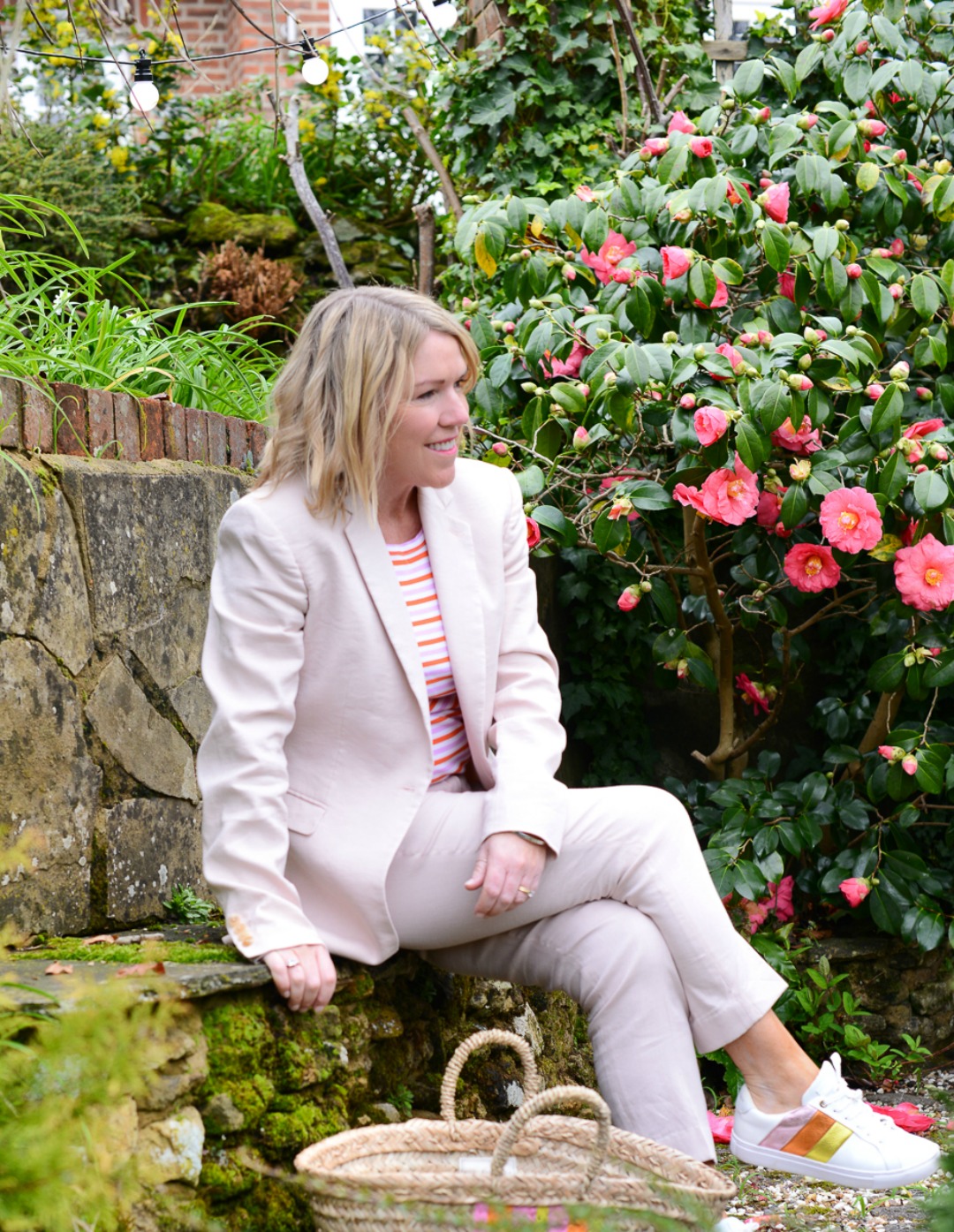 So I reckon any Spring suit is a closet hero, but when it comes to a pastel suit, there's something about it which screams chic seasonal style and has you dreaming of warmer days to come as soon as you don it. The fact that you're also dipping your toe into the tailoring trend (yep, that's another trend for the hit list this season), means a cute suit is a new season no-brainer. This Joseph one is linen (similar Arket one here), I've paired it here with J.Crew tee, Kurt Geiger sneakers and Rae Feather basket.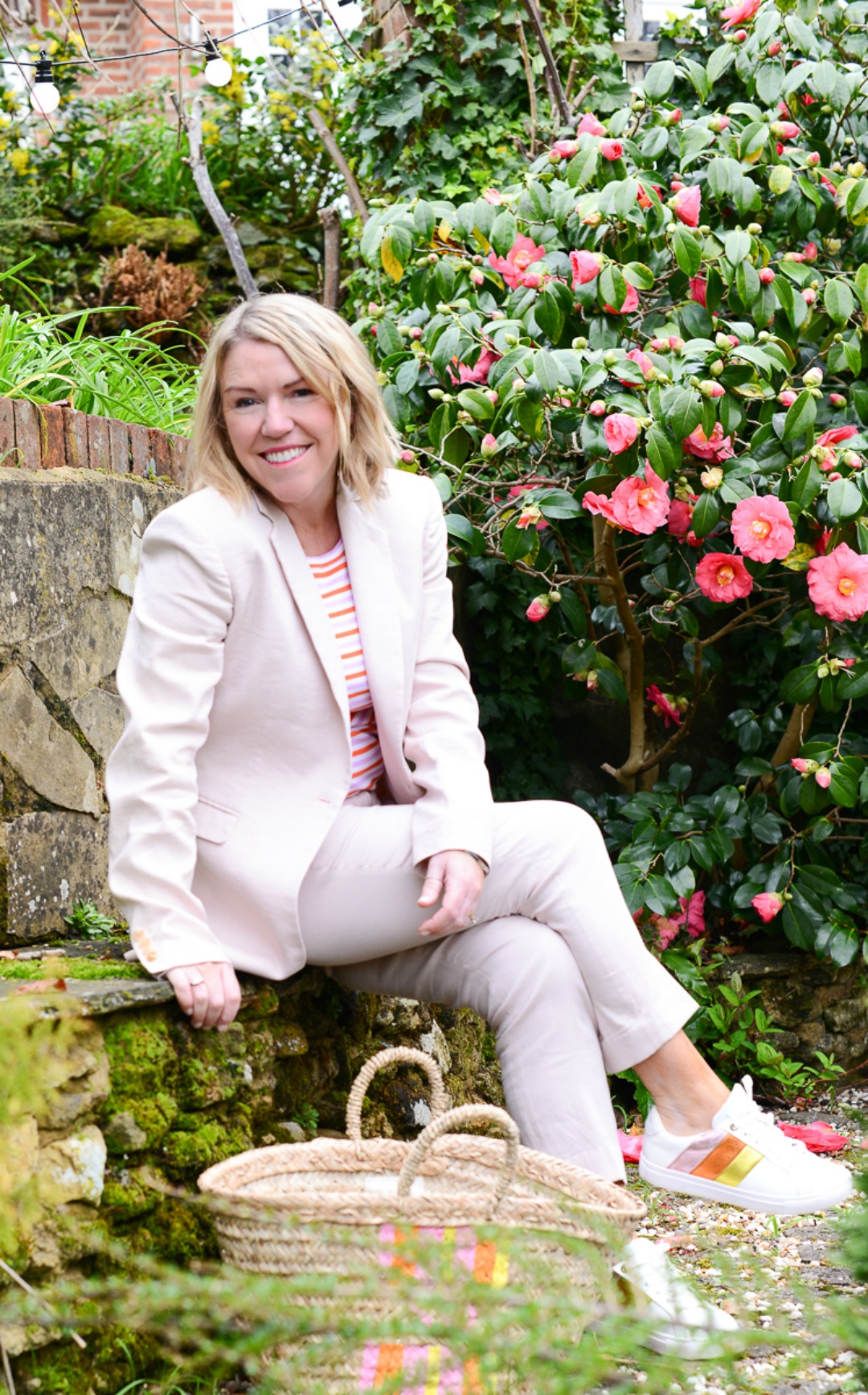 This season's suits come in an array of lighter layers like linens, cotton, cotton poplin and crepe which make them super versatile and great for light layering while the weather is still untrustworthy. When it comes to nabbing the best suit for your body shape, keep in mind that a double-breasted blazer adds width to your silhouette around the midriff, so if you're in the no-defined-waistline, bigger boobs territory a single-breasted blazer is a better choice for you. Conversely, if you are lucky enough to have a nipped in waistline or may be less well endowed then a double-breasted blazer can show off your curves and amp up your assets in one fell swoop. Cinching a skinny belt around the waist is also a 'thing' to create more shape but don't attempt it if, like me, your mid-life waistline is already challenging your sartorial style.
To style your pastel suit keep things minimal, and pair with simple pieces like a crisp white shirt or slogan tee and definitely work it with your sneakers by day for ultimate street style points. If you have the legs for it keep a lookout for shorts versions which would be great for high summer events. Otherwise, trousers come in all sorts of figure friendly styles from slim crop to wide-leg palazzo and beyond.


Pastel suit… where to shop.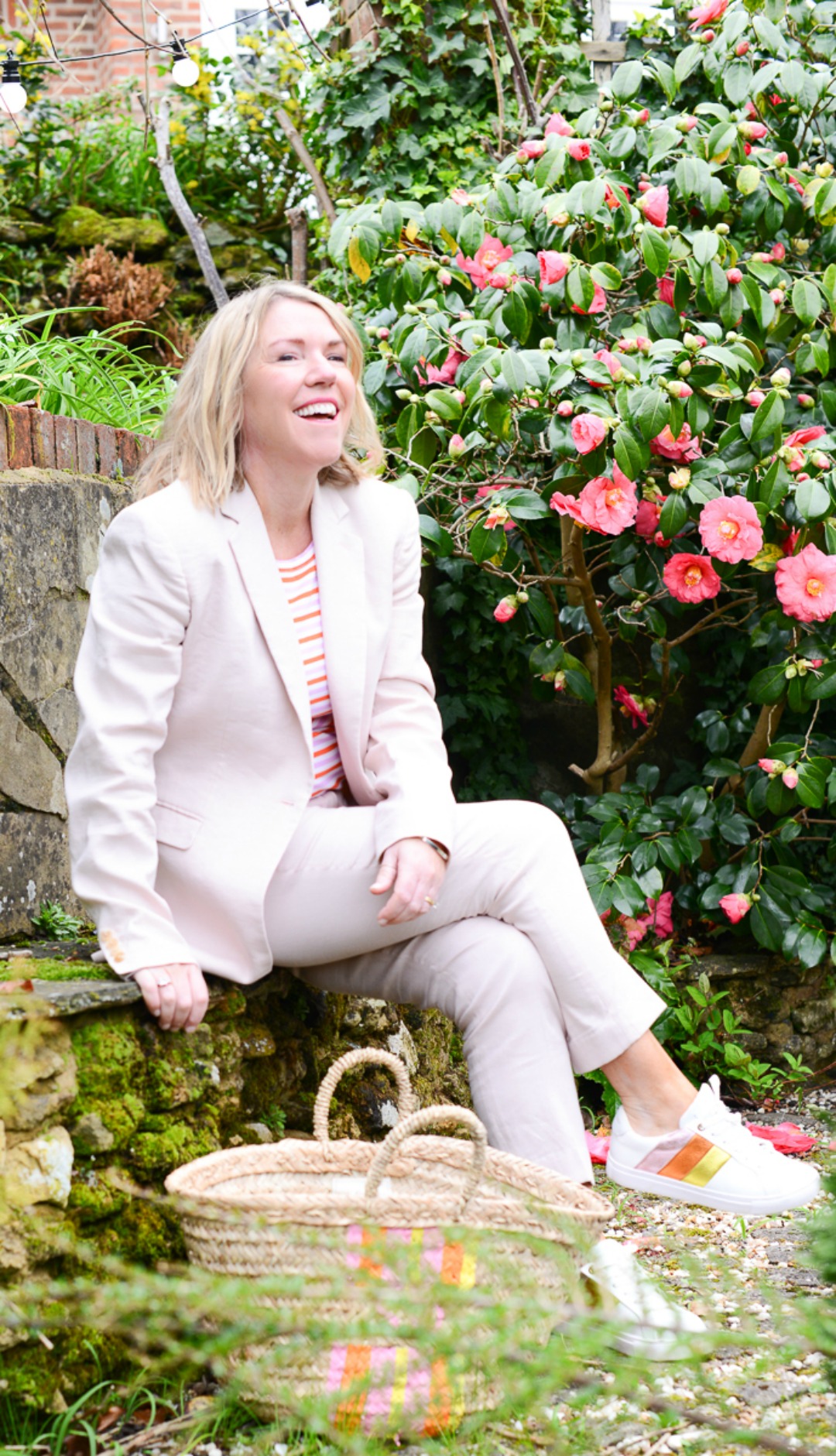 As pastel and tailoring are both major trends for Spring, you can pick up a pastel suit in most stores or via most brands. Pastel tends to be a perennial trend for the warmer months so it may be worth investing a little if you are in the market to buy one. You can easily wear the blazer and trousers as separates and get more bang for your buck over the years. Here are a few of my faves out there right now. Click the images to shop. #AffiliateLinks used.

(Visited 661 times, 1 visits today)