How to wear summer neutrals.
AD: #Affiliate Links Used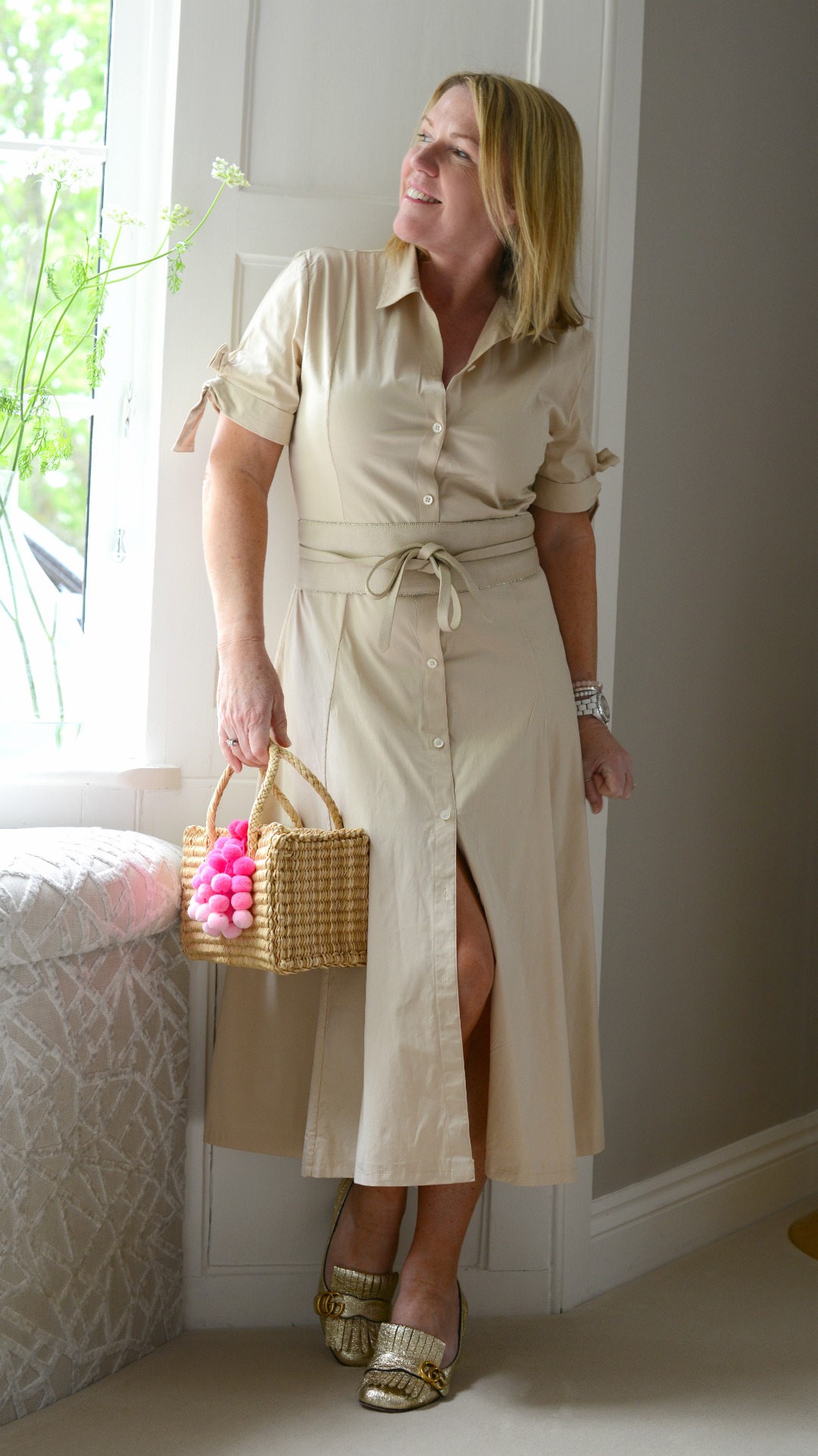 If you close your eyes and sit really still with your best positive mantra switched on, you can nearly smell summer. Yes, we may be in the midst of higgledy-piggledy seasonal changes but the promise of warm summer days beckons and as such one of my favourite times of the year to break out my summer neutrals. There's plenty of colour popping out there to please everyone who loves a bit of brightness in the warmer months, but my summer staples have always been paired back neutrals worn on repeat with a dash of colour chucked in on the odd occasion to liven things up. But for those neutral-phobes out there, road testing this look can be a bit daunting, so here's how to wear summer neutrals this season.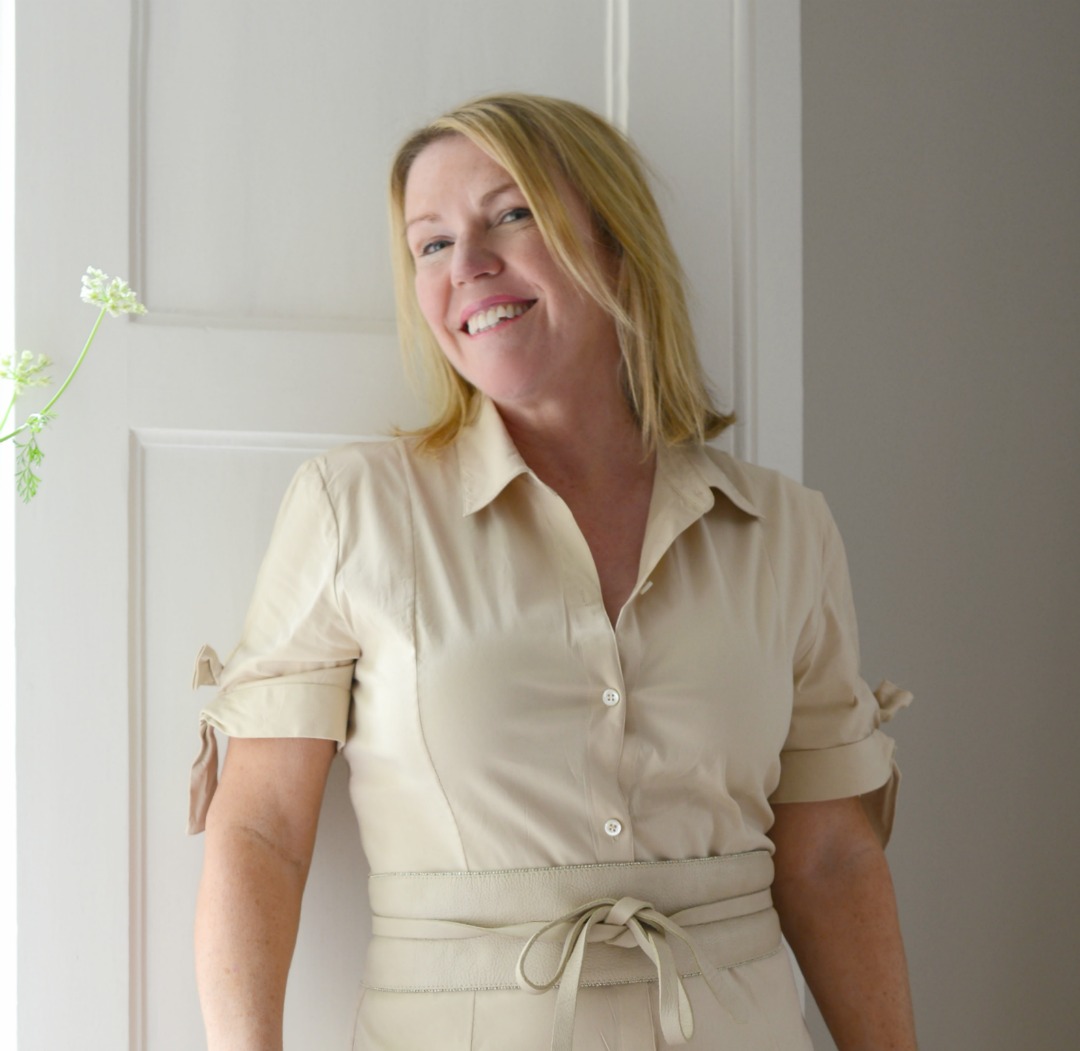 First up, it's time to play with textures. Neutrals can be a bit drab at times but can become your closet workhorse in no time – they work really well in anything from basics like tees and light knits right through to more luxury items like dresses or light summer trenches. Mixing up your layers and fabrics is key to turning this trend around from bland to luxe in one fell swoop. Think lightweight merino wools layered with cotton poplin pants and skirts for the office, lace or broderie paired with denim for the weekend and classic rich silks or satins in a dress or midi skirt paired with luxe cashmere knits, metallics or soft leather accessories for cocktails or date night.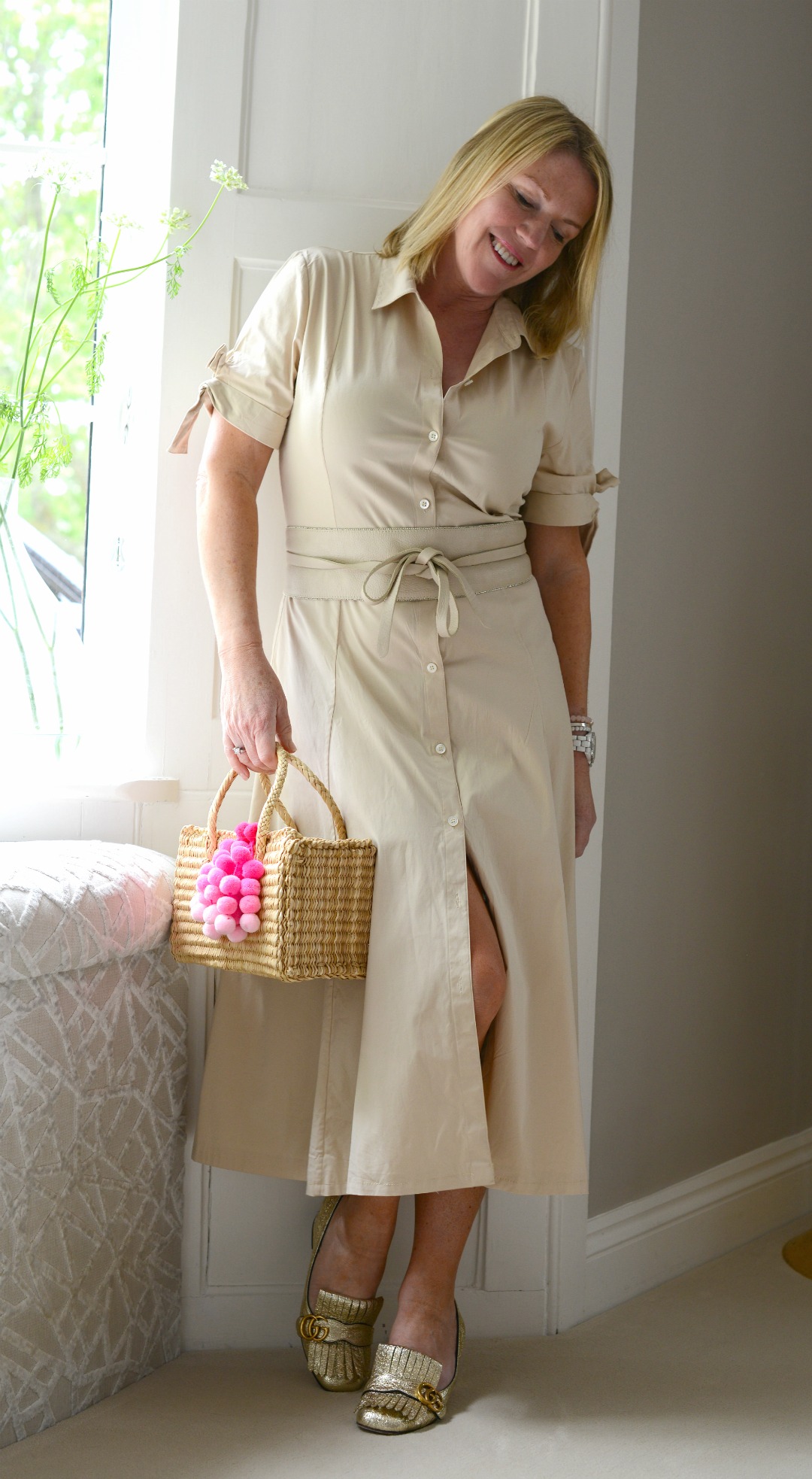 You can also switch up your neutrals by layering tonal vibes together. I'm always a big fan of top to toe when it comes to sporting any colour or neutral, simply because I'm on the short side so keeping one colour throughout gives the appearance of a longer line and a leaner silhouette. Single breasted items also give the same illusion of a linear look. But piling on neutrals in pleasing tonal hues also works a treat to break up the monochrome and is bang on trend if you are looking to add interest. Try a tonal on-trend neutral accessory or two – think summer baskets, fringed bags or raffia totes for that boho vibe.
[cd-subscribe]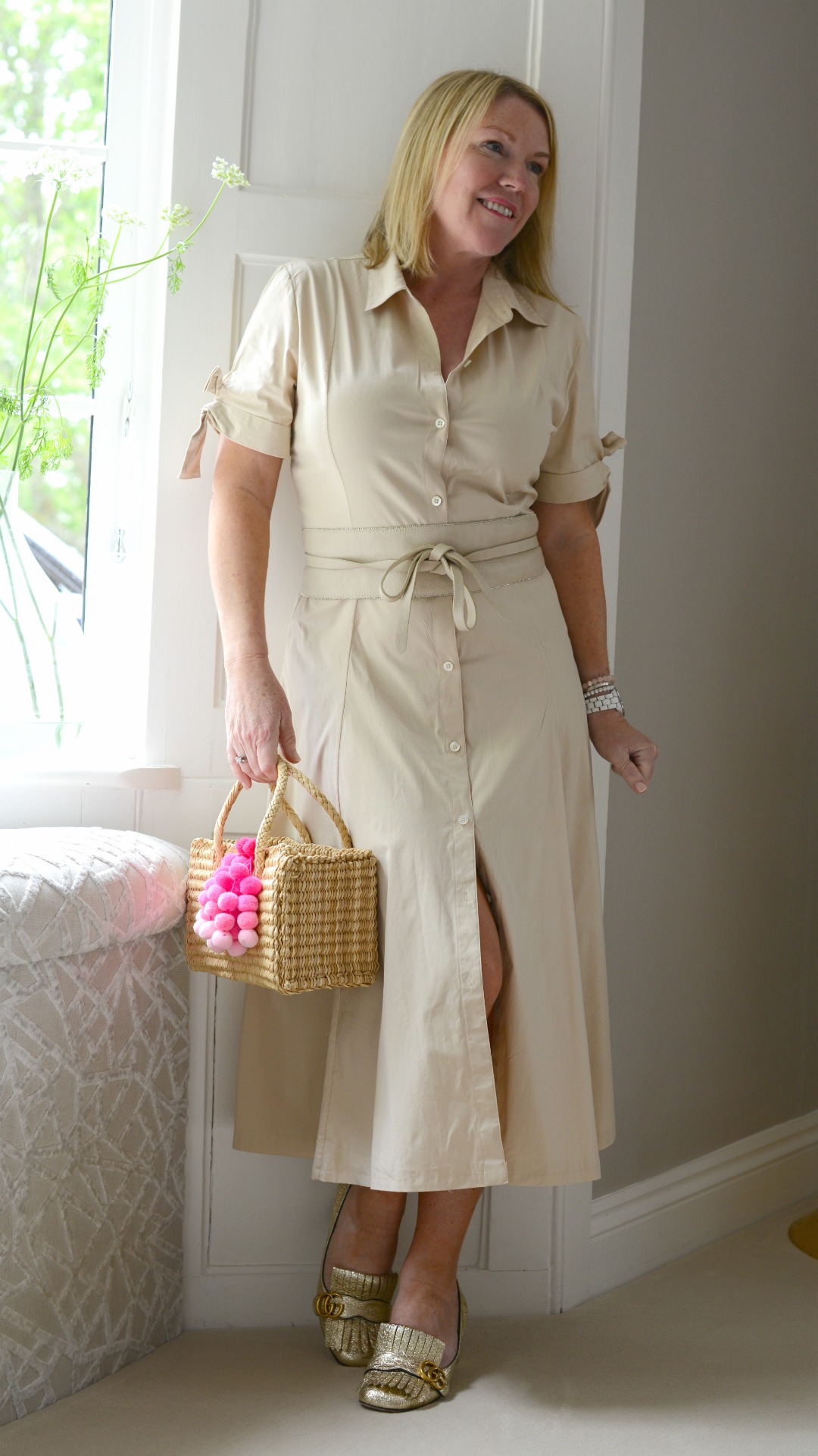 I picked up this lovely Theory shirtdress last summer but only started wearing it this year after I mastered a little hemming to shorten it – tricky though it was to recall 3rd form home economics sewing classes. I've paired it here with an old soft leather obi belt from Calypso St Barth, Gucci heels and my favourite summer Nannacay pom pom bag (similar here). The bag adds that pop of colour which catches the eye and is definitely a tip worth noting, as summer neutrals work with pretty much everything and this summer colour is heading our way in anything from brights to pastels. Perk up your ensemble with a statement pop of colour and your whole look will sing.

Summer Neutrals… where to shop.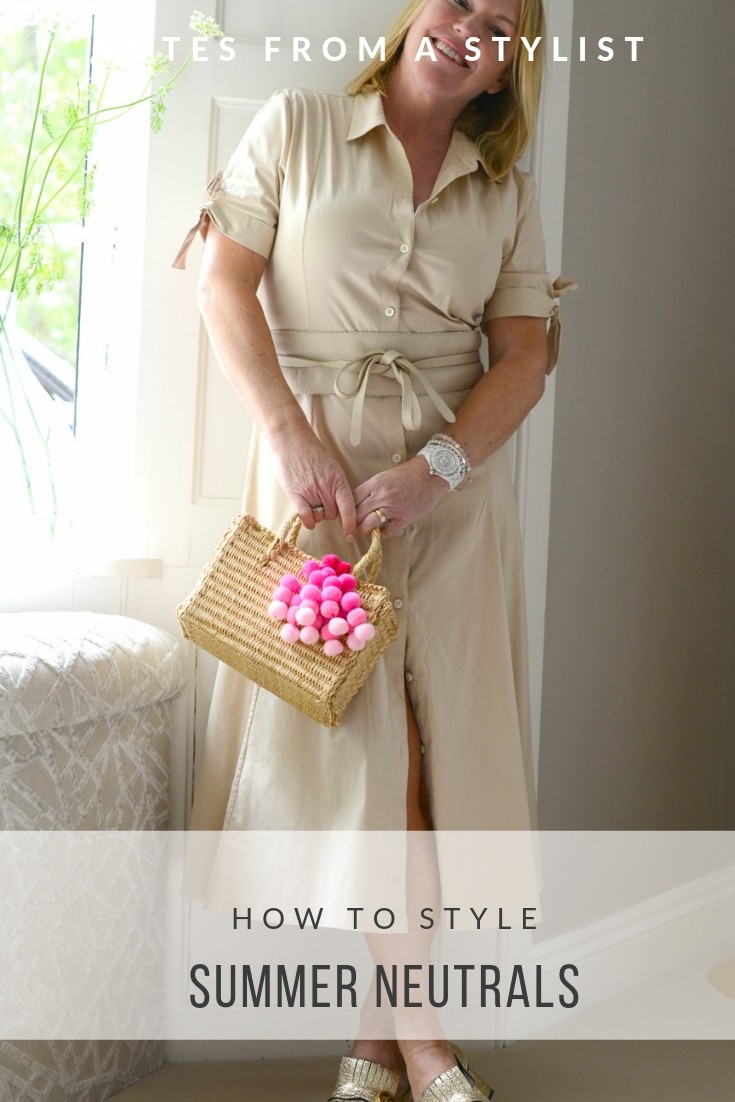 So if you're in the market for a few new summer neutrals… although I would always advocate checking in your closet first… you never know what's already lurking in there which would be fit for purpose. There are plenty of options out there from high end to the high street. Here are a few of my favourites – click the images to shop. #AffiliateLinks Used.

(Visited 1,928 times, 1 visits today)