Terrarium trends for spring.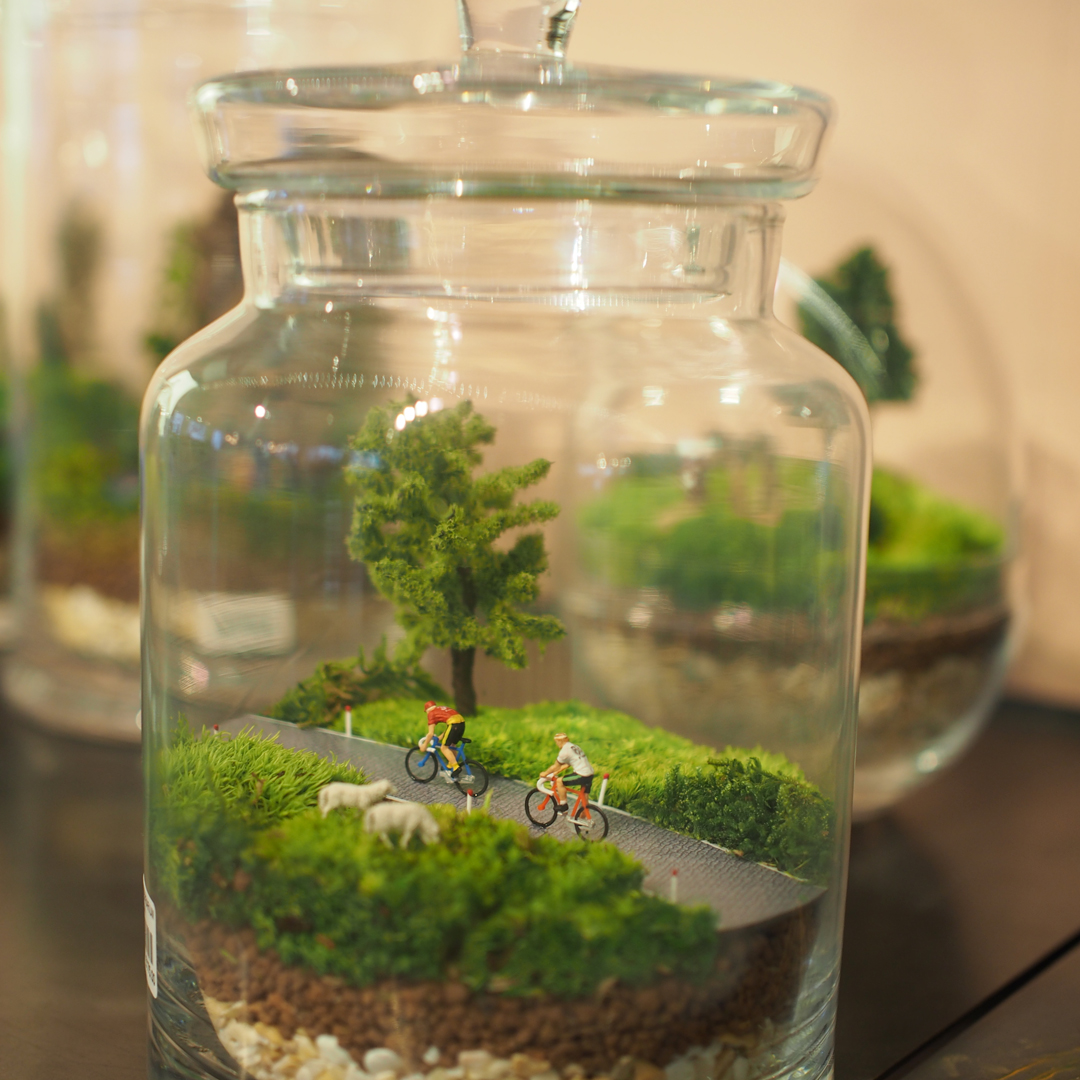 Been to Conran lately? Then you've definitely seen the striking greenery in glass containers. These mini gardens, known as terrariums, can be hugely gratifying and all round EASY to look after. If the word terrarium is unknown to you, these mini-ecosystems were big way back in the day when our mum's used to display them in vast glass jars, but these days they are back with a chic twist and none of the scary 70's vibe included. Here's the lowdown on them and how you can create your own in super quick style.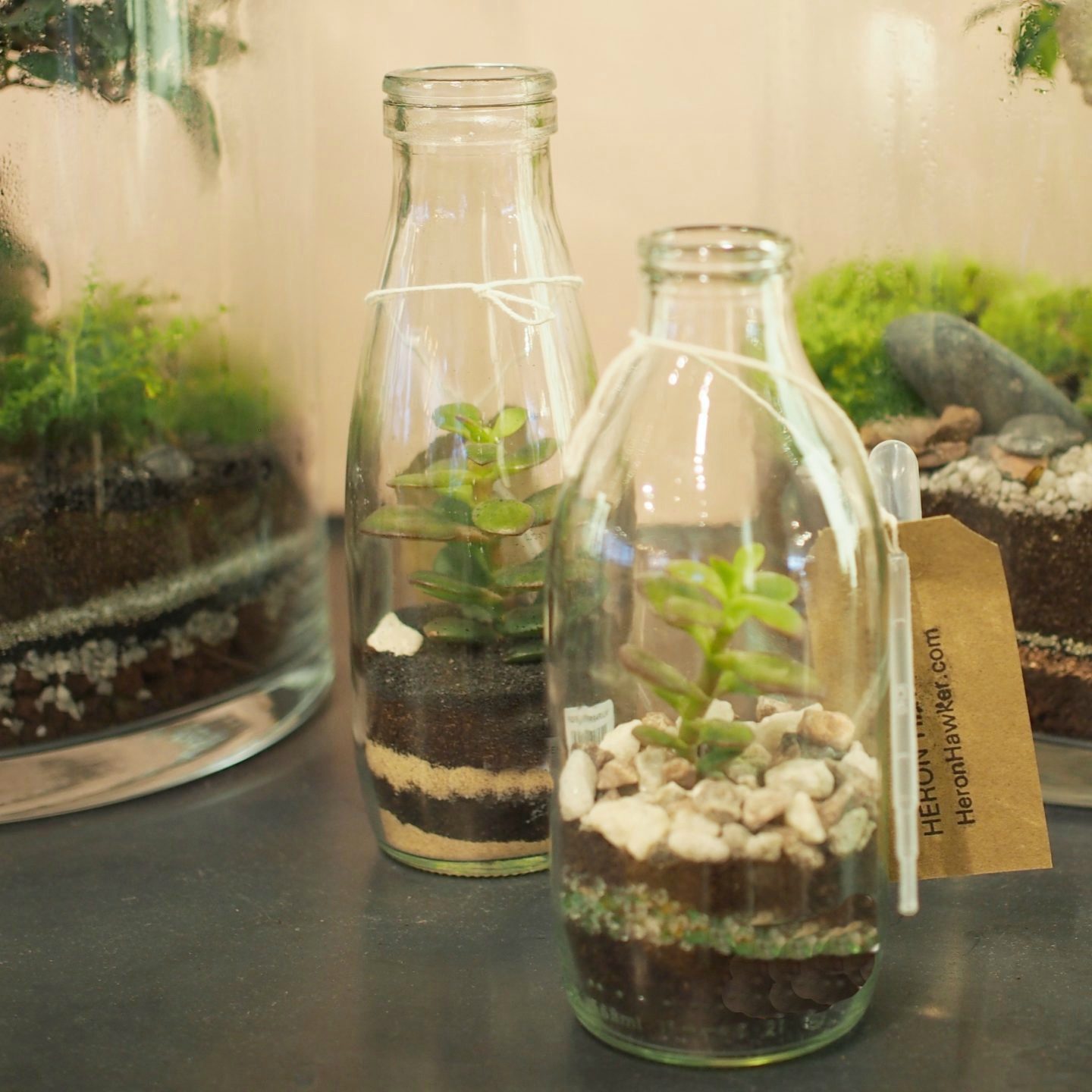 Conran terrarium style
If like me, you are also looking at a long Easter hols ahead, this is a great project to set up with the kids. With a few basic supplies, they can be assembled in a few hours and enjoyed for weeks, months and in some cases years.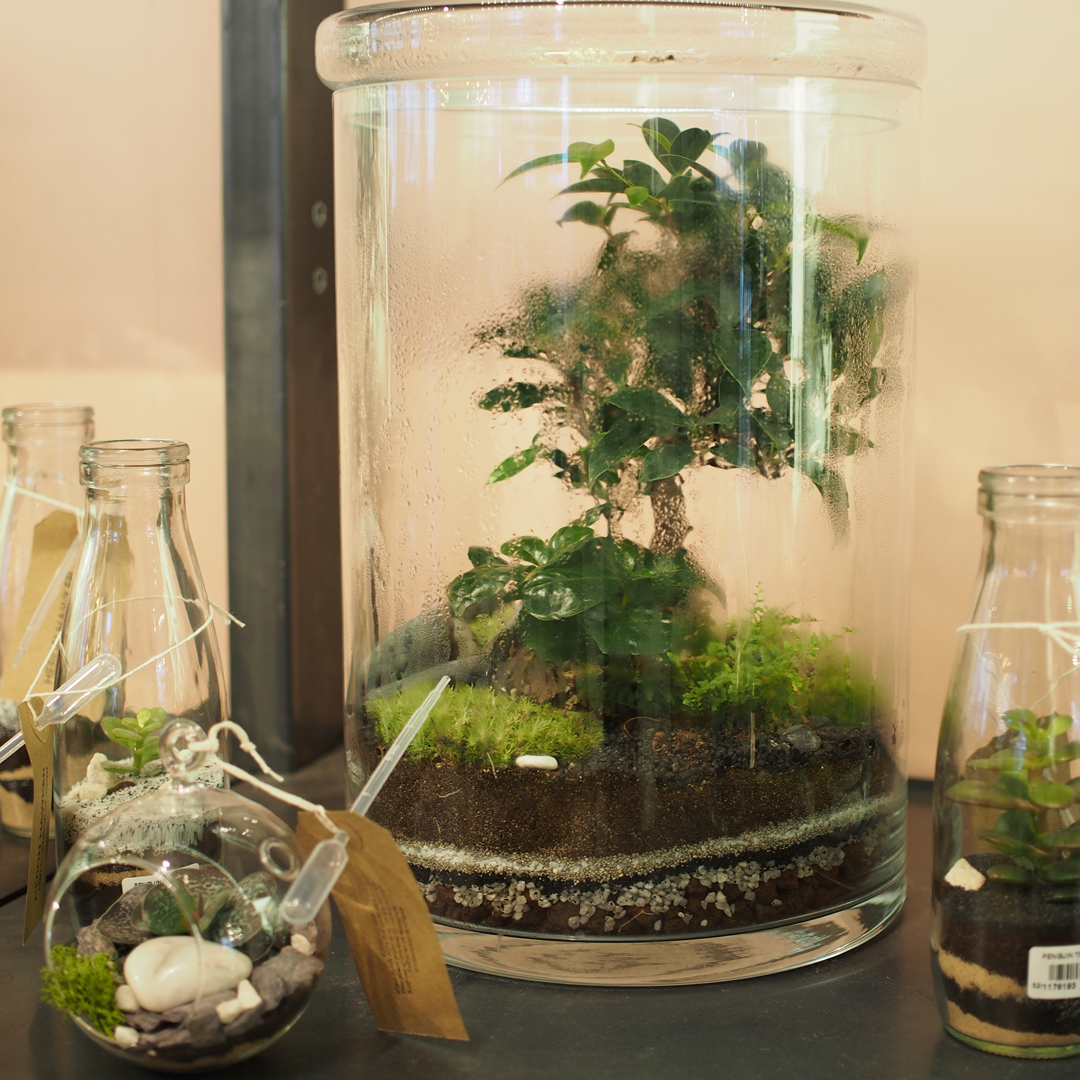 Terrariums can be open or closed: open is for plants that love dry conditions such as aloe, hens and chicks, cacti and air plants, closed is for plants that like higher humidity such as baby ferns, red-veined prayer plant, polka dot plants, artillery fern, peperomia, baby's tears, button fern and creeping fig. To be fair, my preference is for closed as it means less maintenance.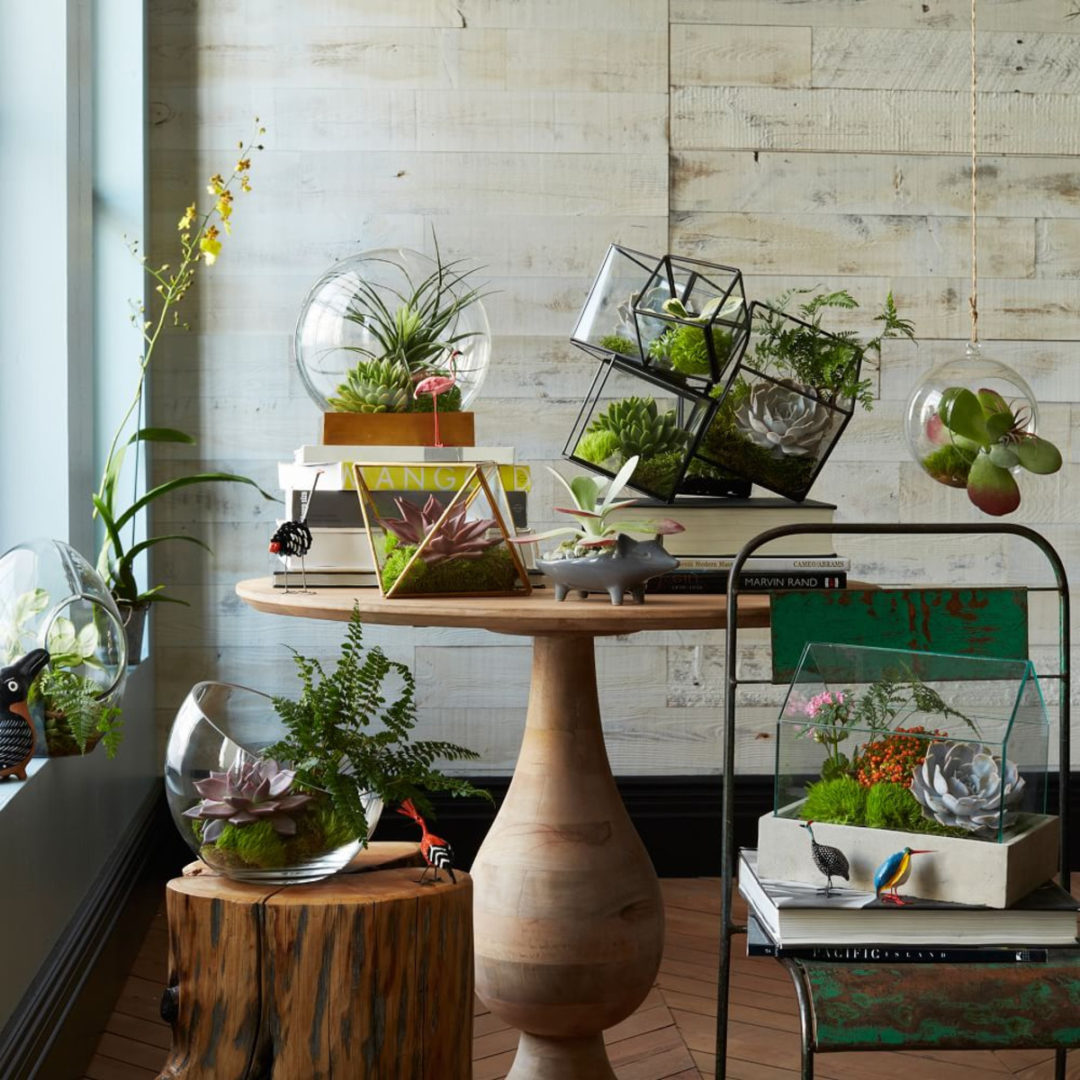 West Elm Terrariums
Terrarium trends… make your own.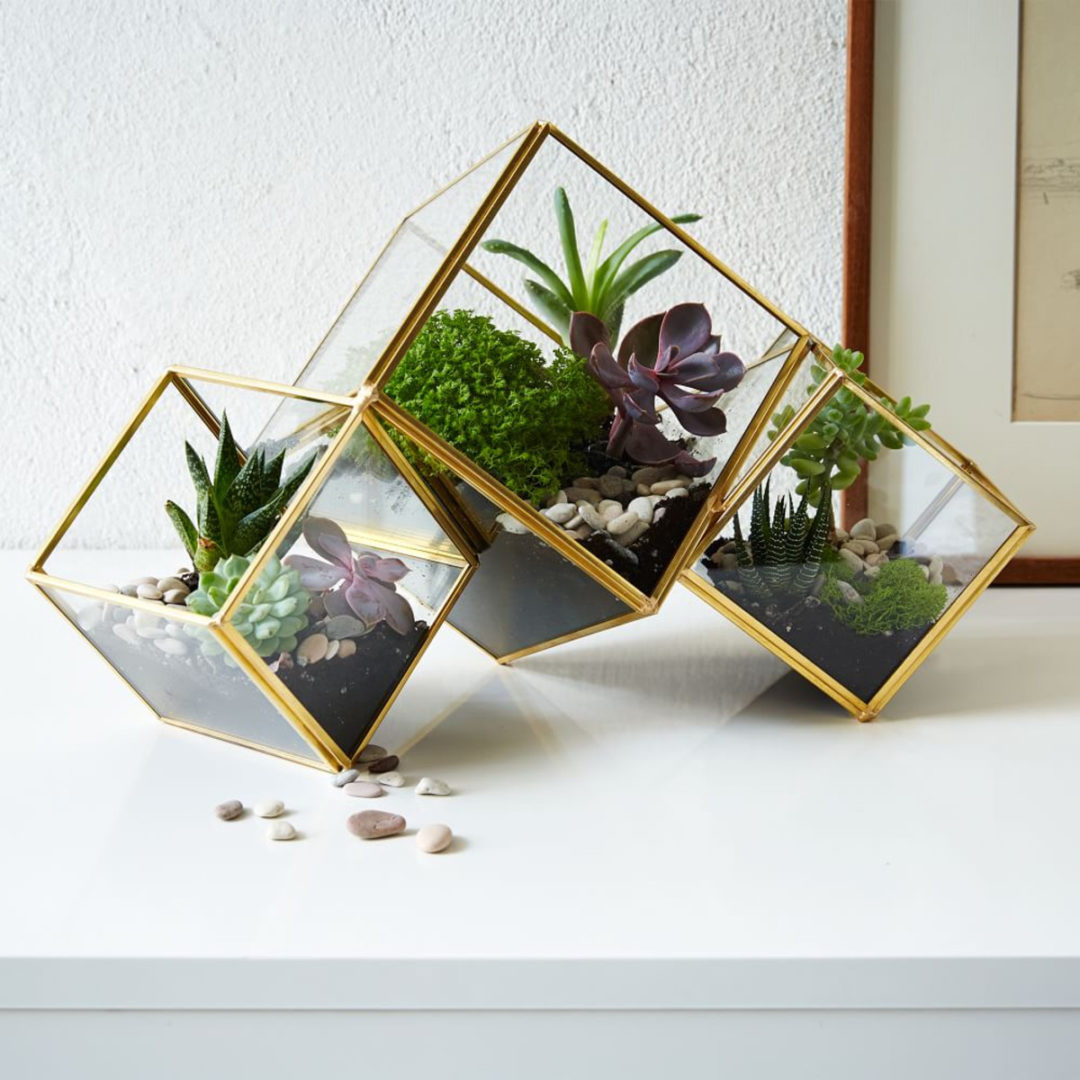 West Elm Cube Terrarium
To put your own terrarium together, there are plenty of vessel choices out there. We love West Elm terrariums here and here. It's also worth taking a peek at The Urban Botanist and London Terrariums for inspo. Whilst The Green Factory is on another level of design expertise in the field… or glass jar… We also love this DIY starter kit on Etsy by Concrete Lab Co.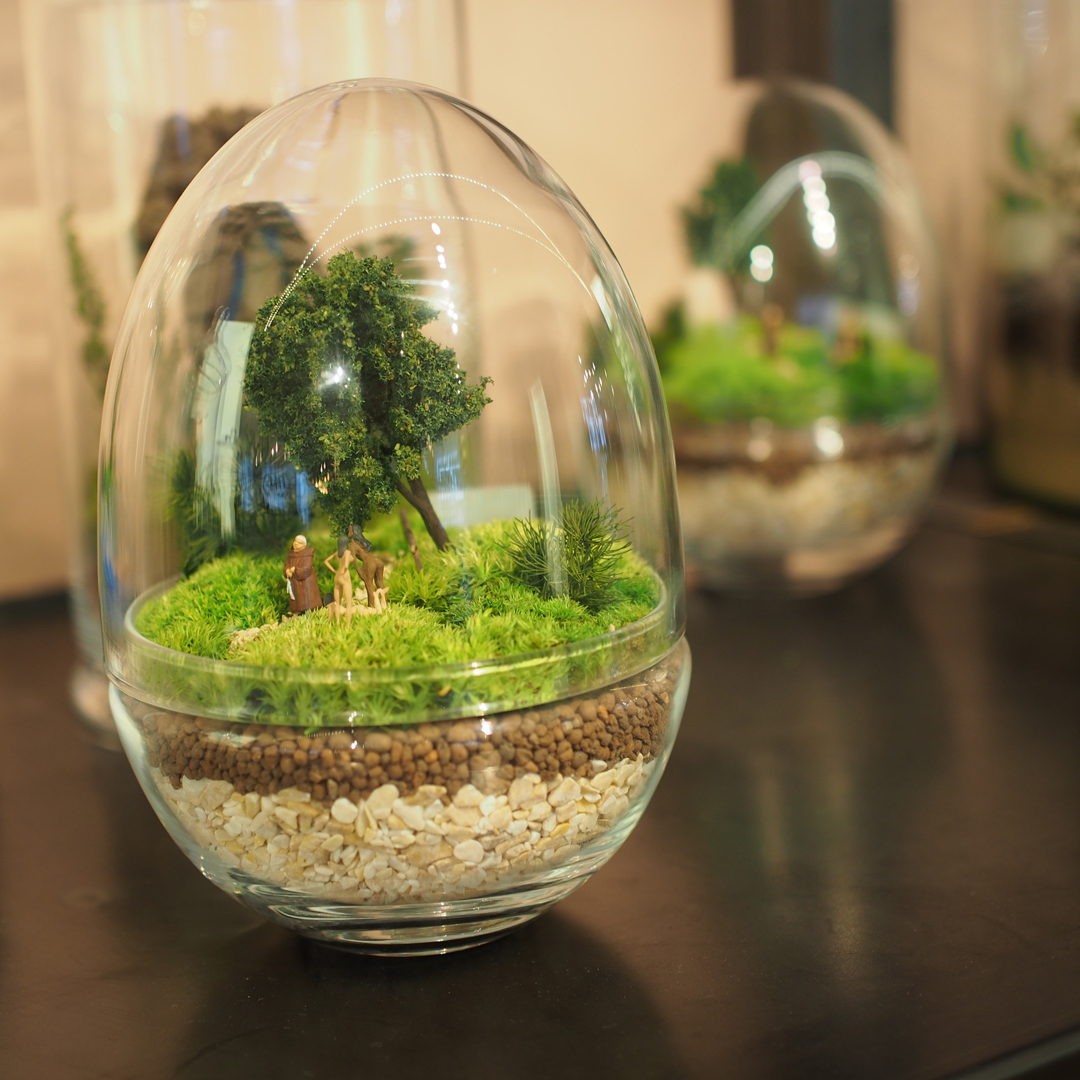 Assembling a terrarium is pretty straightforward. Start with a layer of small pebbles about 2cm in depth. Place a thin layer of horticultural charcoal on top. For interest keep the layers separate. Add a 4 to 5cm layer of clean potting soil and tamp down lightly. (Use new clean supplies to minimise creepy crawlies). Make a hole for each plant and then press the plant into the soil. If you choose to include moss make sure you have quarantined it for a few days in a Ziploc bag to keep bugs out or buy disinfected moss from your garden centre. Spray plants and soil but NOT so much that they sit in water and place in a well-lit area but NOT in direct sunlight. Watch for condensation over the first few days which means the plants are alive and breathing! Open your terrarium for a few hours every few weeks. If, after you've put the lid on, condensation forms then you don't need to add water. If no condensation forms then give the soil and plants a spray.
Some basic rules for closed terrariums are:
Plants should never touch the inside of the glass – too hot!
They need plenty of light but NOT direct sunlight – avoid wilt!
Humidify when no signs of condensation – plants need water to breathe.
Roots must NEVER sit in water – will drown!
For an excellent selection of kits head to Etsy here.
For more advice on terrariums click here, and for tips on how to 'quarantine' your plants and moss before planting read this post here.
And if you're wondering how on earth to work the soil and plants at the bottom of your glass jar, you can use chopsticks or long-handled tweezers or check out this webpage with a video by Martha Stewart, the doyenne of homemaking, on how to make your own terrarium tools! Very cool.

By Catherine Goodrich, Interior Stylist.
(Visited 986 times, 1 visits today)